Hollywood Palladium | Los Angeles, California
100 Gecs & Machine Girl comes to Hollywood Palladium on Friday 19th May 2023! The hyperpop and techno scene is not complete without 100 Gecs and this year, they're bringing their lethal bangers showcasing their highly anticipated second album "10000 Gecs" in their North American Tour. Known for their scavenged scraps of musical influences and welding them into dangerous machines, their musical ambition attracts a cult-like herald of fans. To complement their craziness, Machine Girl, an electronic music duo is set to open in the concert. Their breakcore genre expands the definition of hardcore music. The concert will be taking place in the world famous music venue Hollywood Palladium. Iconic and well-referenced in countless movies and books, it sets a magnificent stage for another legendary concert. Don't miss the relentless, unpredictable and feral music of the two duos. Secure your tickets now for the best night of your life!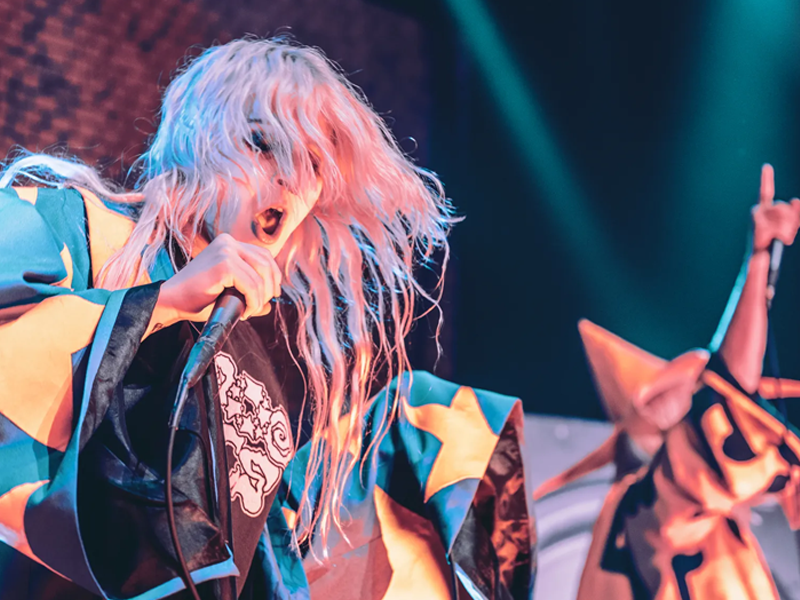 100 Gecs is made up of a musical duo, Dylan Brady and Laura Les. They formed back in 2015 and self-released an album, 1000 Gecs in 2019 followed by a companion remix album, 1000 Gecs and the Tree of Clues the next year. Chaotic, experimental, and electric, they have incredibly resonated with their audience and helped define the 2010's genre hyperpop. Last year, their concert started a hilarious trend of kids bringing old game consoles like the Nintendo DS and flip phones to take low-quality photos and videos.
Their musical influences, according to Brady, are Breathe Carolina, John Zorn, I See Stars and a few others. They love anything with catchy melodies and writing songs with almost an improv mentality. Their music has been described as "anarchic assault on the ears– that pulls conventional pop tropes in every direction", "abrasive, maximalist pop with elements of pop punk, nightcore, ska, dubstep, deconstructed club, trance, metal, and happy hardcore all thrown into one big internet blender". The concert will showcase their songs from their second studio album released just this year: 10,000 Gecs.
Their opener, Machine Girl is another duo with Matt Stephenson and Sean Kelly. They named themselves after the 2008 Japanese film of the same name and have sampled the movie on their 2014 album WLFGRL. Pitchfork have defined their style as "relentlessly smashing together bits of punk, grindcore, rave, industrial, and more" and "unpredictable and dangerous, full of animalistic rage and uncontrollable energy". Meanwhile, Kerrang! listed them as one of the "bands expanding the definition of hardcore", and described the project as "a particularly punky and ferocious breed of the electronic sub-genre breakcore that could easily pass for hardcore when they rip it".
The concert will be a raving beautiful chaos with 100 Gecs and Machine Girl. Especially so in Hollywood Palladium in Sunset Boulevard, Hollywood, designated as a Los Angeles Historic Cultural Monument, where they are famous for turning dreams into reality. The venue is built in a streamline moderne art deco style featuring 11,200 square feet of floor space and 4000 people capacity.
Be part of a historical concert in a historical venue! Grab your tickets now for an incredible and electric night of screaming, singing, and spiraling out of control!