Hollywood Palladium | Los Angeles, California
All Time Low is now rising as they hit the stage, performing live at the Hollywood Palladium on Thursday, 11th November 2021. The American pop-punk and rock band had recently released their single "Once in a Lifetime", after their hit single "Monsters" with Blackbear and a re-released version that also featured Demi Lovato, from their "Wake Up, Sunshine" studio album. The band behind fan-favorite pop-punk, emo anthems that include "Weightless", "Lost in Stereo", "Dear Maria, Count Me In", and many more, is inviting fans to gather and rock on as they hit the stage live in concert. So book those tickets now!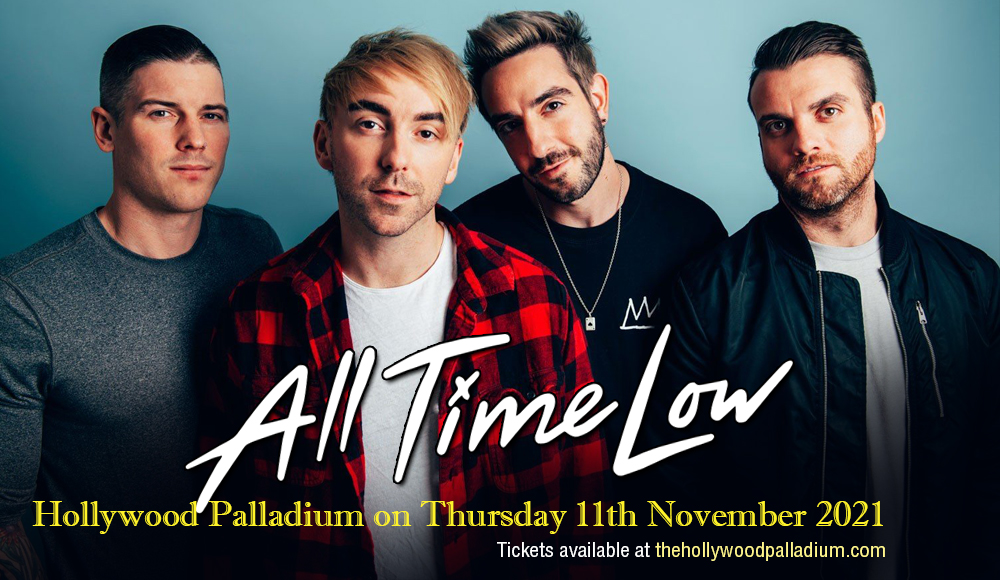 With early beginnings in 2003 as high schoolers covering pop-punk anthems from inspirations such as Blink-182, All Time Low rose and released EPs and their first studio album, "The Party Scene" by 2005. To date, the band has 8 studio albums that include "Future Hearts", "Last Young Renegade", "Wake Up, Sunshine" among others, with more than 20 singles, and over 30 music videos.
The band consists of Alex Gaskarth on vocals/guitar, Jack Barakat on guitar, Zack Merrick on bass, and Rian Dawson on drums. Together, they deliver fan-favorite pop-punk emo rock anthems with energetic live shows that gather fans to rock on. Over the years, the band has become a nameplate in the pop-punk and rock music scene.
Every show is a 'once in a lifetime experience, so count yourself in to rock with All Time Low live on stage at the Hollywood Palladium on Thursday, 11th November 2021. Book your tickets now!