Hollywood Palladium | Los Angeles, California
He's only making 4 stops in the U.S. this year, so you better catch him while you can! The phenomenal ATB will be spinning hot tunes at the Hollywood Palladium,  Los Angeles, California, on the 5th of October 2013, 9:00 pm.  The minute ATB drops the bass, you'll be in a trance and will wake-up to a world of electric dreams.  Insomiac's unparalleled production will guarantee that every beat will be ringing with pure ecstasy.  ATB is a DJ and dancing experience like no other.  Be there!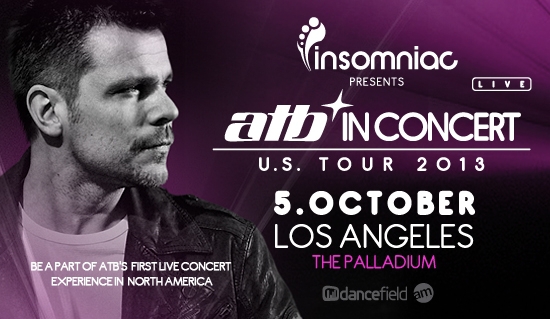 André Tanneberger, goes by his more popular stage name, ATB.  From the late 80s to the early 90s, he tinkered with synthesizers and started composing his own songs.  After which he became part of the dance group Sequential One, which gained massive success in his home country, Germany.  Slowly but surely, Sequential One, started making waves all over Europe.  In 1998, members of the group started to go on their own pursuits, leaving Tanneberger on his own to do his solo project, which he named ATB.  "9pm (Till I Come)"  became his first chart-topper, and was regarded as UK's first trance number one.  Since then, there was no stopping ATB from taking over the world.  ATB took on the #11 spot in 2009 and 2010, and the #15 spot in 2011, on DJ Magazine's  official world DJ rankings.  While taking the number one spot on  The DJ List's world's number one DJs.
You're definitely raving now and putting your hands up in the air for this, right?  Just don't forget one thing — Buy your tickets now!