Hollywood Palladium | Sunset Boulevard
EVENT RESCHEDULED TO FRIDAY 10TH DECEMBER 2021. Originally Friday 26th November 2021. All original tickets are still valid!
Bad Religion & Alkaline Trio's tour bus is now running full speed ahead. Hitting a wide coverage of venues across the country. Originally scheduled to launch in the spring of 2020 to celebrate Bad Religion's 40th anniversary, the tour has come to a halt due to the global pandemic. Now they've rolled out firm dates to pick up from where they left off. The celebratory vibe is now in full swing. Fans can now revel that this co-headlining tour of not one, but two major league punk rock bands, is finally coming to pass. Bad Religion & Alkaline Trio will come and seize the stage of the Hollywood Palladium on Friday 10th December 2021 (Rescheduled from Friday 26th November 2021). Save your mosh pit space. Book your tickets now!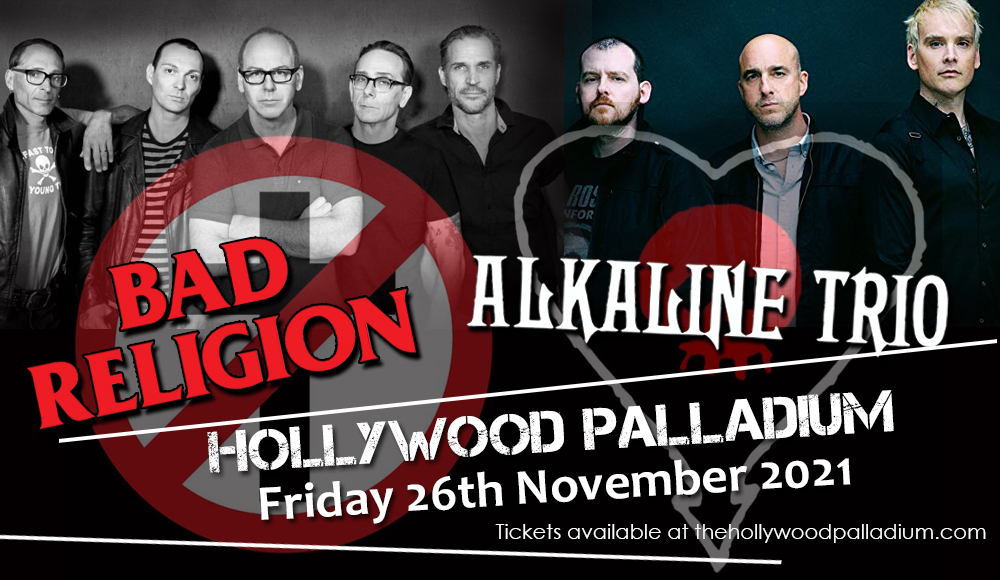 Punk rock luminaries Bad Religion & Alkaline Trio are now stoked that their tour is finally gonna roll. Both bands share and exchanged mutual admiration as they finalized the announcement of their official tour dates.
Speaking about his life long admiration for Bad Religion, Alkaline Trio co-vocalist Matt Skiba says;
"Bad Religion was one of my first loves. I remember exactly where I was the first time I heard Suffer. They are one of the very reasons I started playing punk rock music and continue to today. This tour is going to be epic on many levels. We've done Warped Tour and Festival shows many times over the years but this will be the first time it's just us and I couldn't be more thrilled!"
Similarly, Bad Religion vocalist Greg Graffin had this to say about Alkaline Trio and the return to live music;
"This tour is special; not only are we celebrating the return of live music, but we get to do it with Alkaline Trio, who are such a great band, really excited about this!"
Formed in Los Angeles California in 1980, Bad Religion has to be one of the best-selling punk rock acts of all time,[3] having sold over five million albums worldwide. Bad Religion has seventeen studio albums, two live albums, three compilation albums, three EPs, and two live DVDs to their name. From cult following, Bad Religion has crossed over to the mainstream and has kept a solid loyal following over the years. Their live shows are marked with an eruption of energy as they deliver an arsenal their hits — "Chaos From Within," "My Sanity," "Do The Paranoid Style," "Lose Your Head" and "End Of History" from the new album. "American Jesus," "21st Century (Digital Boy)," "Infected," "Generator," "Them And Us," "The Dichotomy," "Sorrow," "Recipe For Hate," "I Want To Conquer The World," "Suffer," "Los Angeles Is Burning," "Do What You Want," "You", "Infected", and many more.
In 2001, in Chicago, Illinois, Matt Skiba (vocals, guitar), Dan Andriano (vocals, bass) and Derek Grant (drums, vocals) began brewing their punk-emo sound then released it in the airwaves and calling it Alkaline Trio. Since then, Alkaline Trio has released nine studio albums and numerous EPs or extended plays. Their concert setlist is not without the crowd favorites like "Help Me," "Stupid Kid" and "All on Black."
Punk is very much alive and kicking. Now get your fingers clicking on the 'Get Tickets' link to book your tickets now!