Hollywood Palladium | Sunset Boulevard
Come to the BTSM church! Come and fight the infected! The future is in your hands now. Black Tiger Sex Machine are playing their Futuristic Thriller Tour! A Movie Experience. The Canadian aggressive, dark electronic music DJ's are coming to Hollywood Palladium on Saturday 1st February 2020. BTSM are going to have a live show that extends beyond a DJ performance, this is sure to blow your tiger masks right off! So get down to Hollywood Palladium on Saturday 1st February 2020 and be ready! Buy your tickets now! Their show is a unique experience that strikes the perfect balance between a live performance and a DJ set.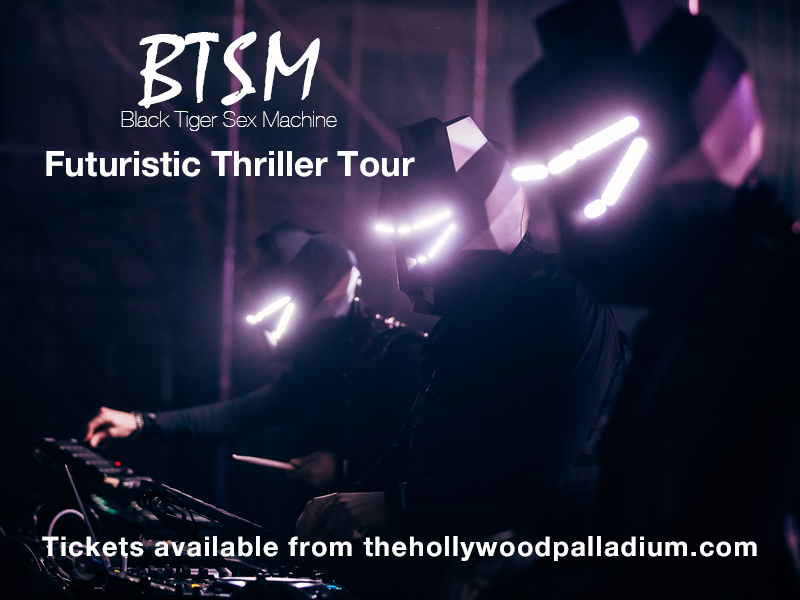 Black Tiger Sex Machine are Patrick Barry, Marc-André Chagnon and Julien Maranda. Hailing from Montreal, Quebec, Canada. The Trio play aggressive mix of Electro, Electro house, Dubstep, and House while wearing black tiger masks. In 2016, they released their debut album, Welcome To Our Church, which The Huffington Post hailed as "one of the best electronic albums of the year." Their critically acclaimed sophomore album, New Worlds, came out in 2018. The album's lead single "Zombie" currently has over 1 million streams on Spotify. BTSM are no strangers to big stages either having performed at Lollapalooza, Tomorrow World, Electric Daisy Carnival, Electric Forest, Electric Zoo, SXSW, Escape, Evolve, Lost Lands, Paradiso, crush, Osheaga, Ile Soniq, Igloofest, Shambala, and Decadence.