Hollywood Palladium | Los Angeles, California
Known for their chill electro-rock, Vancouver duo Bob Moses are headed to Hollywood Palladium on Friday 16th November 2018! The twosome have recently released the "Heaven Only Knows," and it sounds like there may well be an new album in the mix from the "Tearing Me Up" stars! Embarking on the Battle Lines Tour, the fellas shared their excitement about the stint on Facebook earlier in the year:
"It's been a whirlwind of a year in the studio, but we're beyond excited to share "Heaven Only Knows," the band said in the first of two posts. "We're bringing loads of new music on the road."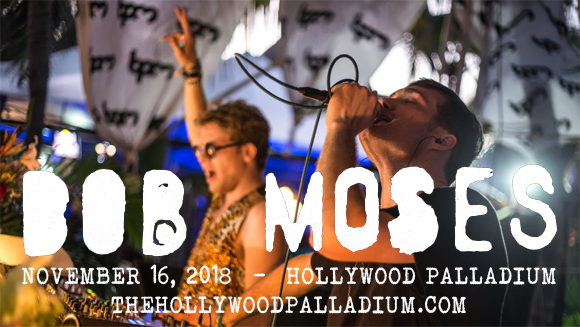 Hailing from Vancouver, Canada, but based in New York City, Bob Moses is an electronic music duo consisting of Tom Howie and Jimmy Vallance. The duo both attended the same high school and middle school, but were not close and went their separate ways, but upon a chance meeting in NYC, they decided to spend time together, eventually leading them to make music together. Their debut album, Days Gone By, was released in 2015 and launched the single "Tearing Me Up", which earned Grammy Award nominations for Best Dance Recording and Best Remixed Recording, Non-Classical, going on to win the latter.