Hollywood Palladium | Los Angeles, California
Brockhampton are on tour in support of their fifth studio album, Ginger (the follow-up to last year's number one album Iridescence), coming to Hollywood Palladium on Friday 13th December 2019! The Heaven Belongs to You Tour sees the self-described hip-hop boyband performing tracks from the new album, including the singles "I Been Born Again," "If You Pray Right," "Boy Bye" and "No Halo"! They'll be joined for the winter stint by UK hip-hop artist SlowThai!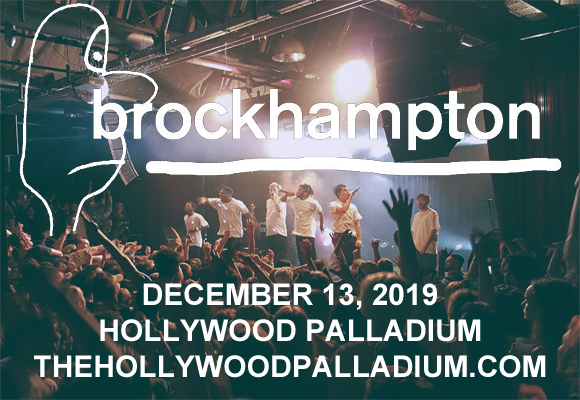 Hip-hop boyband Brockhampton consists of vocalists Kevin Abstract, Matt Champion, Merlyn Wood, and Dom McLennon, vocalists/producers Joba and Bearface, and producers Romil Hemnani, Jabari Manwa, and Kiko Merley, as well as graphic designer Henock "HK" Sileshi, photographer Ashlan Grey, web designer and voice skit regular Roberto Ontenient, and manager Jon Nunes. Formed in 2015 via the the Kanye West fan forum KanyeToThe, the group released its debut mixtape All-American Trash in 2016, with three albums the following year – Saturation, Saturation II and Saturation III. In 2018, the collective signed with RCA and released its major-label debut, Iridescence, later that year, debuting at number one on the Billboard 200. Ginger, their fifth studio album, was released in August 2019.