Hollywood Palladium | Los Angeles, California
Here's one music event that could put an end to those 'blah' Friday nights…  97.1, the new music, music news, and celebrity gossip station, will pump-up your heartbeats with [AMP]LIFY 2013.  This live concert event will feature show stopping superstars — DJ club maven Calvin Harris, RnB sensation Trey Songz, and English-Irish pop music hotties The Wanted.  [AMP]LIFY 2013 is happening on April 12, 2013, 7:00 pm at The Hollywood Palladium.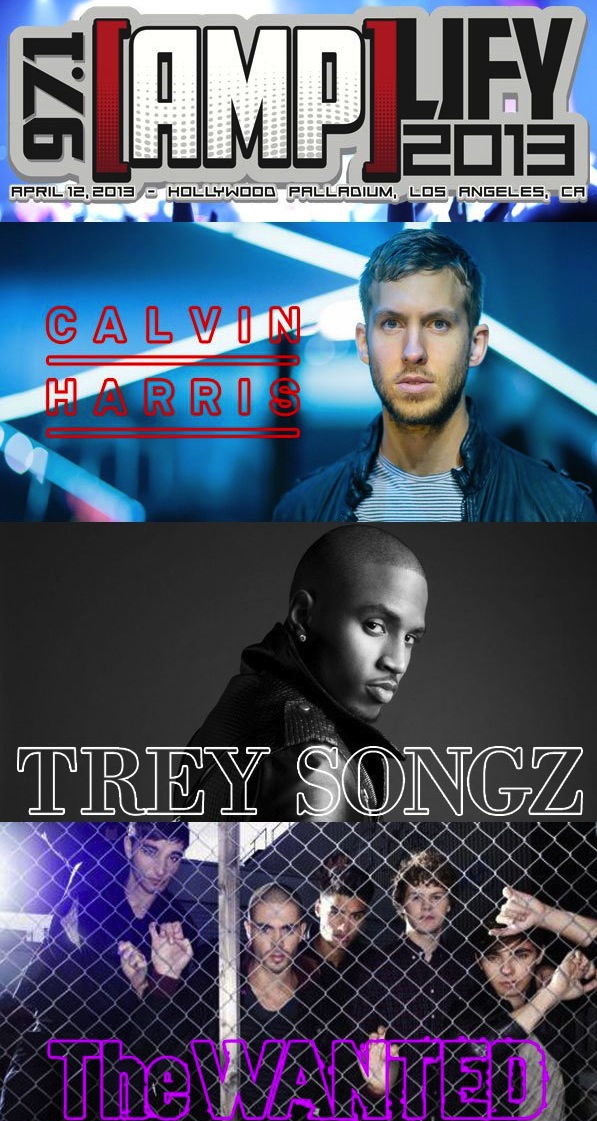 [AMP]LIFY 2013 is definitely making a lot of noise this year with its stellar line-up of artists.  They've got it all covered from electro-dance, pop, and RnB, delivered by no less than today's hottest international stars.
CALVIN HARRIS – One of his biggest signature hits — Rihanna's "We Found Love" is reason enough not to miss this event.  This Scottish DJ, singer, songwriter, and record producer, will definitely dish out mega doses of adrenalin-charged dance hits which includes his UK top-five hits  "Feels So Close", "Ready for the Weekend", and the singles "Flashback" and "You Used to Hold Me".
TREY SONGZ – is an American singer-songwriter, record producer, and actor, As Trey Songz enters the stage, sexy, smooth rnb grooves will surely come your way.  Get on the flow and bump and grind with his hits like "Can't Help But Wait", "Ready", and "Heart Attack".
THE WANTED – Aren't you glad they came, sang, and conquered hearts all over the world? These English-Irish hotties are definitely in-demand with their pop-dance ditties like "Glad You Came", "Chasing The Sun", and "I Found You".
With acts like Calvin Harris, Trey Songz, and The Wanted, all in one stage, all in one night — people are hearing it loud and clear and now scurrying for tickets.  Don't be left behind!  Get your tickets now!