Hollywood Palladium | Los Angeles, California
Chvrches & Donna Missal are coming to Sunset Boulevard, Hollywood: they will be performing at the Hollywood Palladium on Friday December 17th 2021. Don't miss your chance to experience the "godless hurricane of kinetic pop energy" in a truly brilliant show! If you like Depeche Mode, New Order, the Cure or synth-pop, electric dance you will love dancing the night away with the British group Chvrches and Donna Missal. Breathe through with us, fill your lungs up with the songs and sounds of Chvrches, till the time comes and you can grab your tickets now!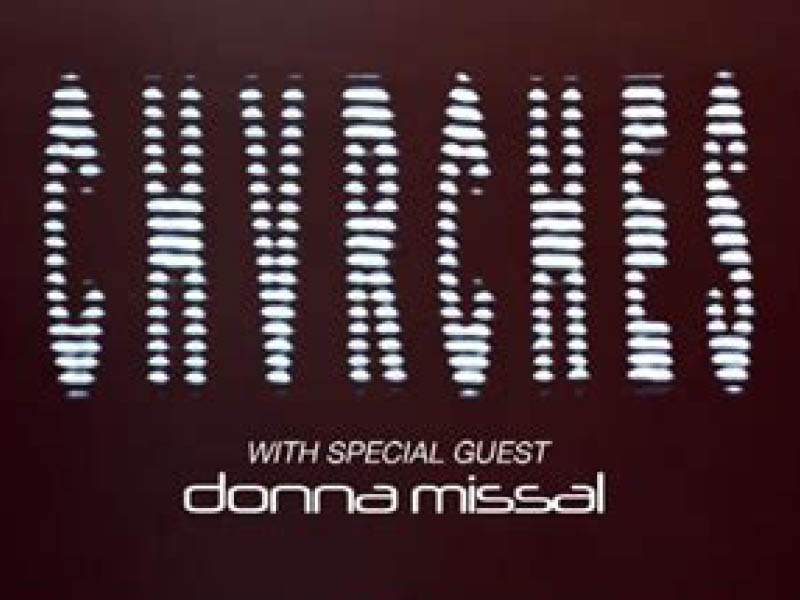 Love driving fast with the windows open, and the music turned up loud? Remember hot summers days, and long lazy nights with friends? Chvrches music will take you back to those moments, their music sunny but tinged with an undercurrent of melancholy and nostalgia. Sway along to their smooth sounds.
Chvrches are a British band, mostly famous for their sound within the synth-pop genre, but also drawing on indietronica, indie pop and electronic dance. Inspired by a broad range of musicial icons ranging from Bowie, Depeche Mode, traditional goth Siouxie and the Banshees, Prince, Deftones and many more their sound has been hailed as "todays heir apparent to Depeche Mode, New Order and other titans of British electronic music".
Don't miss your chance to experience the dreamy brilliant performance from Chvrches. They will be joined by the emerging singer songwriter Donna Missal. Donna Missal is an American musician who is growing in popularity and who has a strongly powerful sound with emotive lyrics: "a poets command of tone, a soul singer's boundless intensity".
"Donna Missal is not a flash in the pan. Donna Missal is a rockstar. Donna Missal is a soul singer. Donna Missal has all the makings of a one-of-a-kind legacy artist. And yet Donna Missal still possesses the hunger of the underdog reaching for her day in the sun." Donna Missal has released 2 albums.
Chvrches hail from across the pond, and are based in Glasgow, Scotland. They have been nominated for, and won, several awards, including nominations for best Breakthrough Artist of the Year. They have released 4 albums, including the most recent titled, Screen Violence.
Order your tickets today for what promises to be an epic night of emotional lyrics and extraordinary electronica.