Hollywood Palladium | Los Angeles, California
Indie rock band Circa Survive comes to Hollywood Palladium on Wednesday 14th November 2018 to promote their newest album, The Amulet! The LP, which launched the singles "Lustration," "Rites of Investiture," "The Amulet" and "Premonition of the Hex," is one of their deepest yet, allowing the group to release their demons on stage. Singer Anthony Green had this to say about the album:
"…The Amulet for me, it's about things that are going on in my life right now. It's about my fear of the end of the world, it's about my fear of money, it's about intrigue with death and birth and it's about sex and it's about violence and everything that's going on in the world right now."
The group will be supported by Foxing and Hail the Sun!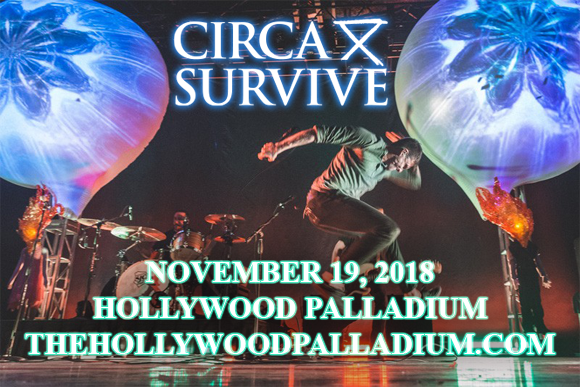 Formed in a suburb of Philadelphia, Pennsylvania in 2004, by former members rock bands Saosin, This Day Forward, and Taken, Circa Survive are an American indie rock group. The band quickly became popular among the indie rock scene with the release of their debut album Juturna in 2005, and their popularity continued to grow with the release of their 2007 follow-up, On Letting Go. The group's sixth, and most recent LP, The Amulet, was released in September 2017.