Hollywood Palladium | Los Angeles, California
If you like electronic music and you like to dance, get ready for the party of the year when Dash Berlin come to Hollywood Palladium on Friday 17th March 2017!! Nominated "Best European DJ" at the IDMA's and touring with massively successful shows, this is an event not worth missing!!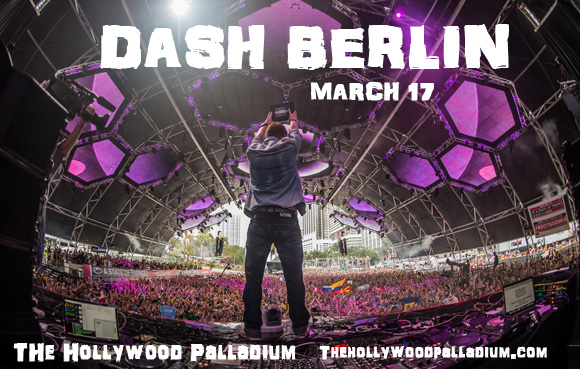 Live, Dash Berlin is a group, but Jeffrey Sutorius, the frontman, also represents the group as an individual. His first big break came with "The Sky Falls Down" in 2007. The song rose to the top of dance charts across the planet, helped along by Armin van Buuren mixing it in his highly regarded "Universal Religion" album and going on to sign Dash Berlim to Armada Music.
He went on to achieve big things, winning the IDMA award for "Waiting" in the "Best High Energy Track" category, and went on to pick up one award after another from various awarding bodies in the following years. He headlined the Ultra Music Festival in Chile and Buenos Aires with Armin van Buuren, Avicil, and Carl Cox. He even earned the prestigious ranking of "10th most popular DJ in the world" from the 2013 edition of DJ Mag.
In 2009, Dash Berlin aimed to expand his influence with a new label Apropa Records. The first release, "Man On The Run" a collaborative effort with Armada artists Cerf, Mitiska and Jaren shot to the top of the international trance charts and at the annual Trance Awards, received a nomination for "Best Trance Track". Since 2007, people have been listening to and loving Dash Berlin's work – join in on the fun and buy your tickets to see him live today!!