Hollywood Palladium | Los Angeles, California
Deadmau5 & Lights bring you Cube V3 at Hollywood Palladium on Thursday 26th September 2019.
Undoubtedly the most complex production ever presented by deadmau5. The new cube is able to switch positions from 90 degrees into 45 degrees and rotate 360 degrees. As always, it features mind-bending visual content from deadmau5 and his custom touch designer system.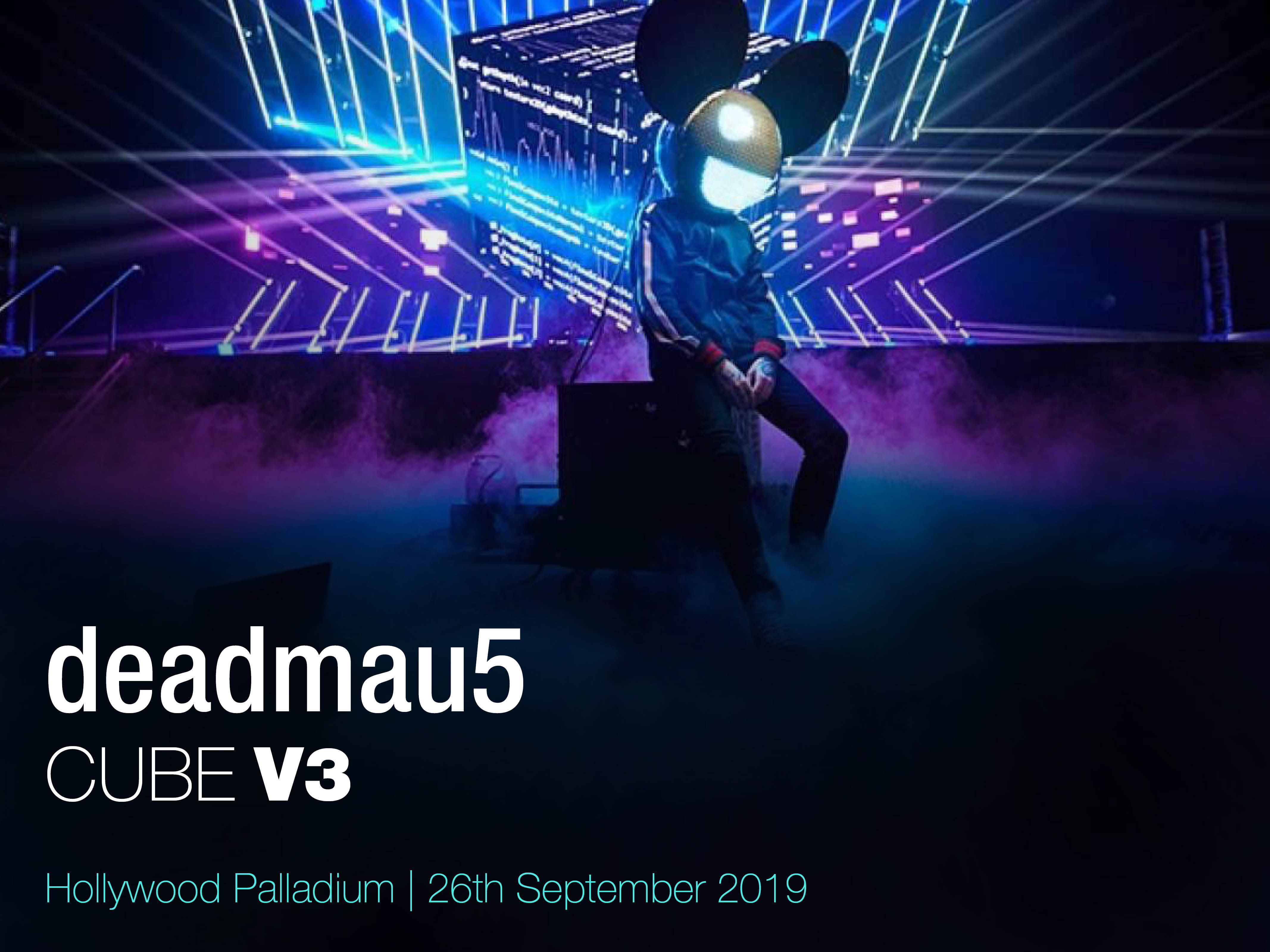 Deadmau5, his new Cube V3, you want MOAR?!! well there a new album on the way too! The Adults. Deadmau5 is Joel Thomas Zimmerman, a Canadian electronic music producer, DJ, musician, mask wearer. He has received six Grammy Award nominations, worked with other DJs and producers, such as Kaskade, MC Flipside, Rob Swire and Wolfgang Gartner. He has also collaborated with Steve Duda, he founded his own record label, Mau5trap. Deadmau5 is currently one of the highest paid electronic music producers in the world, and is a masked music artist similar to Marshmello and Daft Punk.
"Unbelievably high definition LED screens covered the Rubik's Cube-shaped platform that he stood on top of, donning the infamous mouse helmet. Visuals melted between classic video game characters and heavy machinery during the beginning of his set. Taking a drastic change that only deadmau5 could pull off — hilarious video shorts of mutant mouse creatures breaking it down on the dance floor took over the screens. Highlights of the set include timely "Ghosts 'n' Stuff" remix accompanied by friendly ghost visuals, and "The Veldt" in its entirety, taking a break from the heavily manipulated visuals to show a slow flyover of naturally beautiful landscapes and fairytale scenery. Deadmau5 closed the set with "Strobe," followed by a removal of his helmet and stepping off the stage to address the crowd. He admitted while Red Rocks is one of his favorite places, he'd rather be at home playing Rocket League." – Tyler Harvey and Ellie Herring, 303Magazine.com.
"Masked pop-techno producer Deadmau5 has long been as famous for online beefs with Madonna and Kanye as for his music. His Twitter trolling is frequently hilarious, even as it hints at the underlying persona of a man who'd be at his happiest shouting up at an ex's window at 2am about how he never cared anyway." – Damien Morris, The Gardian.