Hollywood Palladium | Los Angeles, California
Are you ready for the House of Zef?! Die Antwoord are bringing their brand new tour to Hollywood Palladium on Thursday 14th May 2020! The tour, which is potentially their final outing under the Die Antwoord name, will see Ninja, Yolandi and God getting the dance floor pumping with a night of tunes from their final album, House of Zef, plus killer classic Die Antwoord tunes like "Enter the Ninja", "I Fink U Freeky", "Baby's on Fire", and "Fatty Boom Boom"! Gansta Gangsta!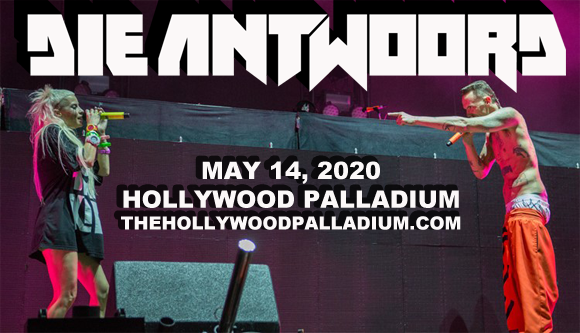 Die Antwoord is Ninja, Yolandi Visser and producer God (formerly known as DJ Hi-Tek). The South African rave-rap group, who formed in Cape Town, first made waves on the music scene in 2008 with their free-download debut album $O$. The album launched the single "Enter the Ninja", the video for which soon became popular online and led to a record contract with Interscope Records in 2010. After various label disputes, the group started its own label, Zef Recordz, releasing their second album, Ten$ion, on the label in 2012. The album's four singles, "Fok Julle Naaiers", "I Fink U Freeky", "Baby's on Fire", and "Fatty Boom Boom", brought the band global success, taking their music career to the next level. Die Antwoord followed Ten$ion with Donker Mag (2014) and Mount Ninji and Da Nice Time Kid (2016), which furthered their international popularity. Their fifth and final album, House of Zef, is set for a 2019 release.