Hollywood Palladium | Los Angeles, California
The authority in dubstep, electronica, drum and bass music is taking over the live concert stage! "Disciple Takeover" — an electrifying dance music tour is due to conquer the stage of the Hollywood Palladium on Saturday 7th December 2019. Once you enter this dance dimension, there's no turning back, or rather, you may never want to leave this galaxy heavily guarded by the most hot, skilled, and ferocious DJ superheroes — Virtual Riot, Barely Alive, MODESTEP, & many more from the roster of the label's finest. What's your pass key to enter this marvelous universe? No need to look far and wide, it's all at your fingertips! Just click the 'buy tickets' button on this site, and in a few easy steps, you'll be all geared for a takeover experience like no other. Book your tickets now!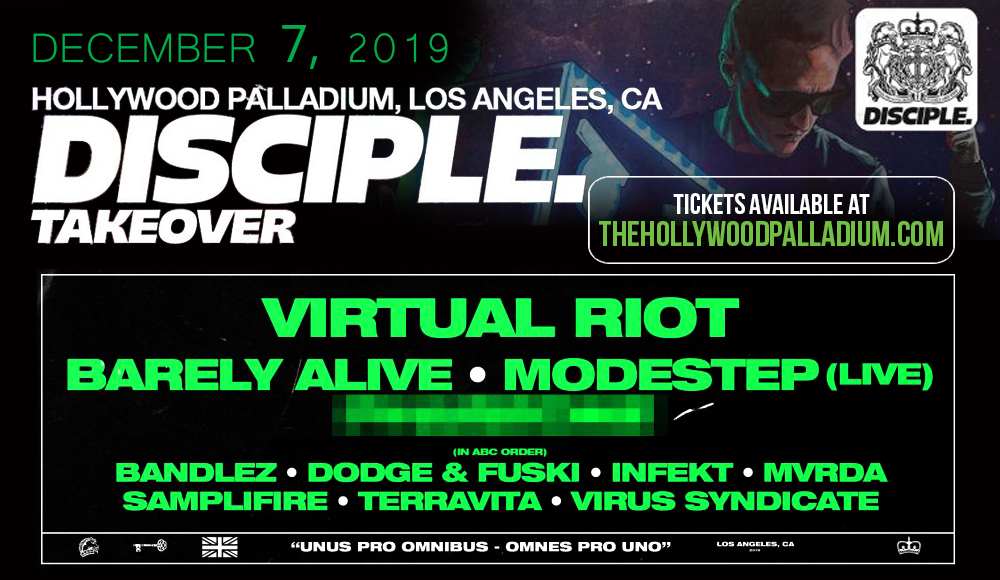 Disciple Recordings is an independent music label founded by Rob Talbott (Dodge of Dodge & Fuski/JVST SAY YES) and Ross Burr (Myro/1/2 of Astronaut) in 2013. It upholds its mission and vision to produce "Music created for your ears. All rights reserved. Always forward. Into the horizon we go forth. The adventure continues…" Indeed, Disciple is always one step ahead into the dimension where dubstep, drum and bass, and other life forms of EDM music exist, thrive, conquer, and seize control fandoms where minds and bodies to be immersed into the electronic dance music movement.
Disciple is now out on a very important mission, that is dubbed as operation "Disciple Takeover". The prime movers tasked to be in the frontlines of this invasion happening at the Hollywood Palladium on Saturday 7th December 2019, are DJs par excellence — Virtual Riot, Barely Alive, MODESTEP, & many more.
Virtual Riot: German DJ and electronic music producer Christian Valentin Brunn–his alter-ego Virtual Riot is a veteran at the Beatport chart with hits including "One For All, All For One" with Razihel and "Cali Born" with Helicopter Showdown. Do date, he has released seventeen extended plays and one studio album Chemistry, which peaked at 20 on Billboard's Dance/Electronic Albums charts and his 2018 extended play German Engineering, which peaked on the Dance/Electronic Digital Song Sales chart at the No. 11 position.
Barely Alive: They're a massive force these days in the electronic music scene that's keeping the EDM fandom alive and kicking as they racked up multiple Beatport top 10s, and millions of youtube plays. This Massachusetts-based EDM duo has dropped a high-velocity sound, fleshing in dubstep, trap, and drum'n'bass influences. In no time at all, they were named the second best-selling dubstep artist of 2014, and still unstoppable to this day.
Modestep: This artist has taken a rather unusual route in the EDM soundscape — they formed a band! Indeed, Modestep are a a dubstep and drum and bass influenced rock band from London, UK, who had broken new ground with their smash hit, "Feeling Good," in 2011.
This EDM triumverate will carry out this mission for a Disciple Takeover. Resistance is futile. Follow the beat leading you to click on that 'buy tickets' button now!