Hollywood Palladium | Los Angeles, California
Get ready all trance fans!! To celebrate its 20-year anniversary, the iconic psytrance label HOMmega is taking over the Hollywood Palladium in Los Angeles, for a night of trippy sensations and hypnotic beats, featuring Astrix, Eyal Yankovich, Freedom Fighters & Infected Mushroom! Presented by the Dreamstate team, the night will take place on Sunday, September 3, 2017. Tickets expected to sell out so don't wait about – book yours NOW while they last!!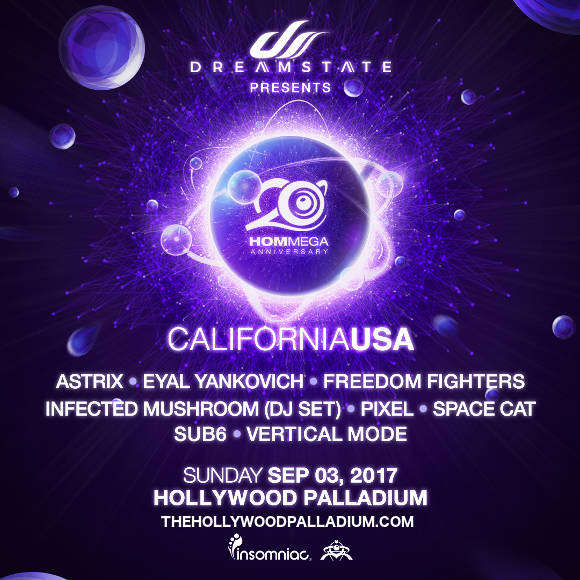 The main features of the show are Astrix and Infected Mushroom. Both original signees of HOMmega, the pair now are considered two of the most massive acts in modern electronic music. With the eclectic mix of genres present in each act's music, Astrix and Infected Mushroom are true examples of the musical diversity of psytrance!
Freedom Fighters, a household name in psytrance, has gone from one strength to another since he first emerged on the scene a decade ago. Label leader Eyal Yankovich is making a rare appearance at the show, together with supporting acts Space Cat and Pixel, each making huge waves on the trance scene. Also featured are the incredible Sub6 and visionary Vertical Mode – truly, there's no shortage of amazing artists at this amazing one-off event!! Get ready to dance all night long to the best selection of psychedelic trance in the world!
Don't miss out on the special celebration of 20 years of HOMmega – book your tickets to see Astrix, Eyal Yankovich, Freedom Fighters and more NOW! Tickets are in short supply – get 'em before they're gone!!