Hollywood Palladium | Los Angeles, California
Flogging Molly comes to Hollywood Palladium on Saturday 17th March 2018 for a night of unforgettable entertainment! Flogging Molly will be hitting the road again and serving up everything you know and love about them with their foot stomping incredible hits, these guys sure know to get the crowd jumping – tracks from their whole career including songs from their 2009 album "Drunken Lullabies" went gold and maybe some surprises too – don't miss out!!!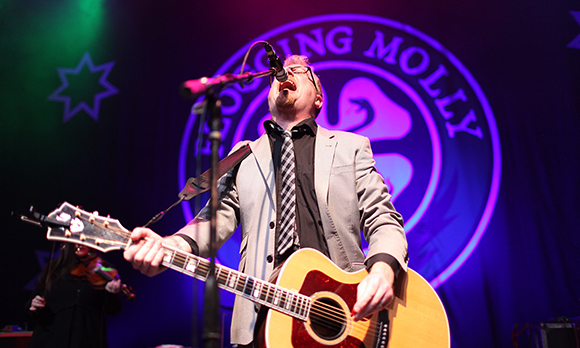 The Dublin major group, Flogging Molly have been gigging on the road since the 1990's led by Dave King who originally was the lead singer for heavy metal band Fastway featuring guitarist "Fast" Eddie Clarke of Motörhead and bassist Pete Way of UFO in the early to mid '80s. Later the singer formed hard rock band Katmandu (1991), featuring Mandy Meyer of Krokus on guitars. Afterwards, Dave King retained a record deal with Epic records…
With a transformation from Rock towards more love for Irish Instruments, he began to bring in the traditional sounds and in 1993 he met guitarist Ted Hutt, bassist Jeff Peters, and violin player Bridget Regan and put together a rock band with a Celtic feel.
Further down the line, Dave King began to move on and form Flogging Molly – together they have now released an independent (26f Records) live album titled Alive Behind the Green Door, as well as six studio albums: Swagger, Drunken Lullabies, Within a Mile of Home, Float, Speed of Darkness, and Life Is Good; and an acoustic/live DVD/cd combo Whiskey on a Sunday, which has gone platinum!! With an incredibly successful career, Flogging Molly have also been widely recognized by fellow musicians and over the years they have performed with so many different artists. Some of their shows have in the US have included Warped Tour, Larry Kirwan's American Fléadh Festival and contributed to the Rock Against Bush project. They have sold in excess of a million and a half copies of recorded released.
As one of the greatest bands on the Folk Celtic scenes, and one of the only ones to be known so well around the world, with success all around the globe including a massive following in the United States – Flogging Molly are a must-see! Don't miss them as they embark on their North American tour, this Spring!!