Hollywood Palladium | Sunset Boulevard
The plucky Brit band, Foals comes to Hollywood Palladium on Wednesday, November 16th 2022 for their latest Life Is Yours Tour 2022. Grab your tickets and get ready for some serious Brit Rock, with proper crowd-surfing! Foals are one of the world's best live acts and always deliver a fantastic live show, plus they have their old album, Everything Not Saved Will Be Lost – Part 1 & 2, from 2019 that still needs some live attention, and this June they released another album, Life Is Yours. So, what are you waiting for? Brand-new music and classic hits await their first live play, and you will get to hear it all!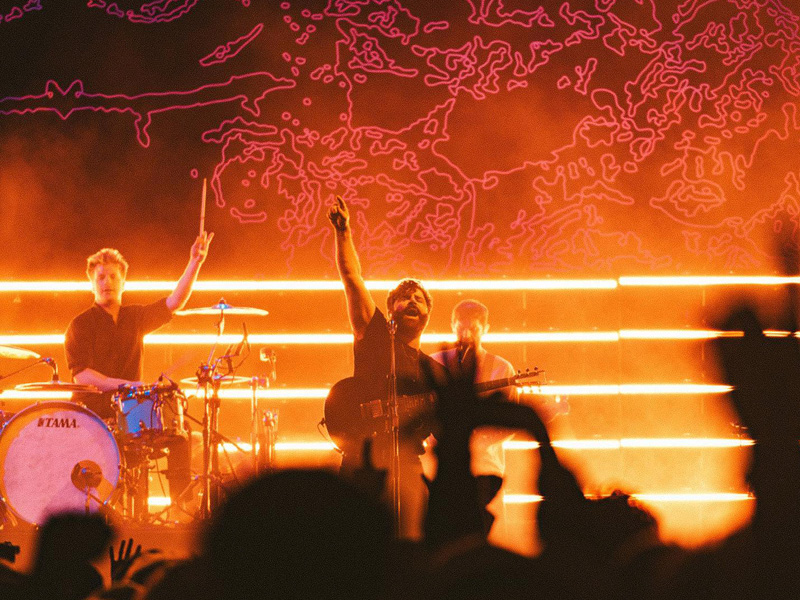 "All good roads lead us back to the ocean." The band stated at the tour announcement, "We're juiced to announce a brand new 25-date headline tour in North America, starting in late October. We can't wait to play again for you. Our new show is the absolute truth. A proper mix of the classics & our newest bangers."
Foals formed in Oxford, UK way back in 2005. Originally a five-man band, formed of lead vocalist and guitarist Yannis Philippakis, drummer and percussionist Jack Bevan and rhythm guitarist Jimmy Smith. The two departed members are keyboardist Edwin Congreave in 2021 and bassist Walter Gervers in 2018. Life Is Yours, the band's seventh studio album, is the group's first album as a trio, was released in June 2022, and charted at number 3, across the pond, on the UK Official Albums chart, it was preceded by five singles, "Wake Me Up" which charted at number 98 in the UK and number 21 here in the US on the Alternative Airplay chart, "2am", "Looking High", "2001" and "Crest of the Wave".
Foals have released seven studio albums to date, with the previous six being Antidotes, in 2008, Total Life Forever, in 2010, Holy Fire, in 2013, What Went Down, in 2015, Everything Not Saved Will Be Lost – Part 1 & 2, in 2019 of which touring in 2019 had to be cut short and many fans have yet to hear it played live. The band is considered one of the top UK live acts, having won the 2013 Q Award for Best Live Act and twice being nominated for the NME Award for Best Live Act in 2011 and 2013.