Hollywood Palladium | Los Angeles, California
Waves of euphoria are now making its way to this side of town as soon as Four Tet's tour was announced. Four Tet will officially drop the beat on Saturday, 2nd February 2019 at the Hollywood Palladium. Four Tet is one of the pillars of electronic dance music in the UK, a ubiquitous artist who has practically played on every dance music festival in the UK and all over Europe. Four Tet's intelligent approach to EDM has pushed boundaries that broke him into the global dance music scene. In a Four Tet show, expect the unexpected. The only thing that one can expect from this is the inevitable mad dash for tickets by his most rabid fans. Secure your space in the venue that sure to be filled-to-the-brim with fans dancing to their hearts' content. Be one of them. Get your tickets now!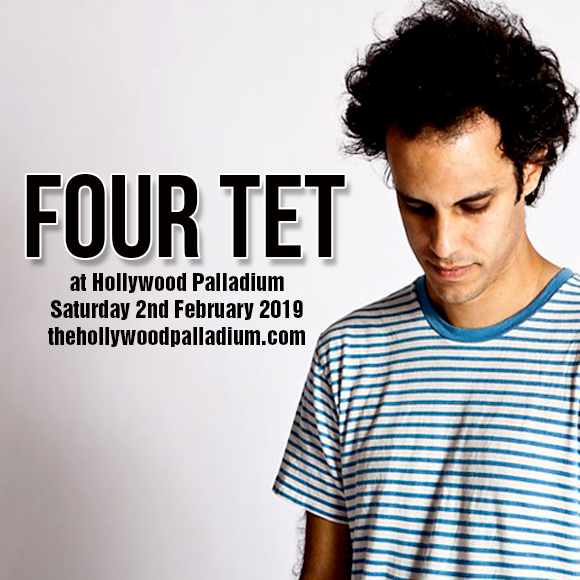 Kieran Hebden, a.k.a. Four Tet, is an English electronic dance musician who debuted in the music scene during the late nineties, starting out as a member of the band Fridge, before opting to go solo. In 1998, he defied convention and broke out of the mold commercial records by releasing a 36 minute, 25 second single long single entitled 'Thirtysixtwentyfive'. In 1999, his first album "Dialogue" was released, earning the nod of music critics and recognition from NME. Since then, he was known for his unconventional improvisations a hybrid of electro/rock fused with some jazz sounds. His "Rounds" LP became his first entry into the UK album charts. He toured extensively, bringing his innovative folktronica sound all over the UK and the rest of Europe. In 2010, his album release 'There Is Love in You' –his first ever, and only (so far) entry into the UK top 40 album chart.
He may not have reached the pinnacle of commercial success, but his talent and critically acclaimed body of works, earned him gigs as a producer, doing remixes for Aphex Twin, Bicep, Explosions in the Sky, Super Furry Animals, Radiohead, Ellie Goulding, Lana Del Rey, Manic Street Preachers, Sia, Black Sabbath and Madvillain, and has produced two albums by psychedelic improvisational group Sunburned Hand of the Man.
All the facets of his artistry make Four Tet deliver truly exciting DJ sets. His unpredictable line-up keeps audiences guessing, asking, and coming back for more. The clamor for Four Tet tickets never dies down. The best way is to grab those tickets early on and secure your spot a.s.a.p. !