Hollywood Palladium | Los Angeles, California
Colorful Cali indie-rockers Grouplove head to Hollywood Palladium on Friday 7th October 2016 to promote their brand new album Big Mess! Their summery alt-pop will round off the hotter months with one hell of a party and have you dancing like crazy from start to finish!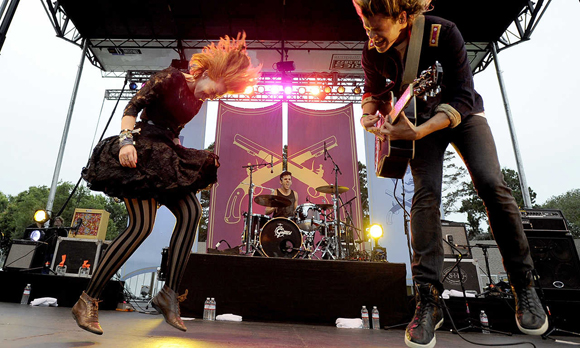 American indie-rock band Grouplove formed in 2009 and consists of members: Hannah Hooper (vocals, keyboards), Christian Zucconi (vocals, guitar), Sean Gadd (bass, vocals), Andrew Wessen (guitar, vocals), and Ryan Rabin (drums, production). The band formed out of a friendship made between the members at the Ikarus artist commune in the village of Avdou. Early in the year after they formed, the band went on tour with Florence and The Machine on the west coast, and then The Joy Formidable on the east coast and by November, Nylon Magazine recognized Grouplove as one of the top ten in the "Best New Bands in 2010." The group has released two studio albums: "Never Trust A Happy Song" and "Spreading Rumours".