Hollywood Palladium | Los Angeles, California
The renowned DJ and EDM sensation, Jauz, is throwing a blast at his very own "Bite This! Block Party Tour" featuring a pool of rising talents hand-picked by Jauz himself. The talented roster includes Ghastly, Vampa, Holy Goof, and Brody X Devin. Don't miss out on the Bite This! Block Party Tour hitting the stage live at Hollywood Palladium on Friday, 30th of September 2022. Turning up the beat on a sonic party right across the block, DJ and Producer Jauz just dropped his latest tech-house bop with Ship Wrek, serving the track "Reality". As the dream of having talented rising EDM acts sharing a stage becomes a reality, save your spot at the block party by booking your tickets now!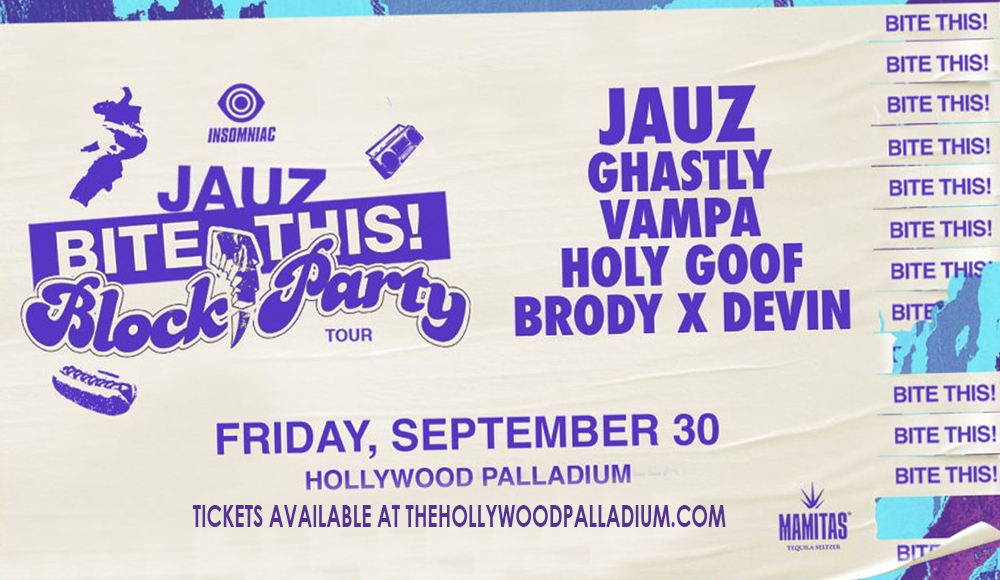 Highly-acclaimed American DJ and EDM producer hailing from San Francisco, Jauz, is set to throw the year's biggest party featuring a set of rising up-and-coming EDM acts hand-picked by himself. The curated lineup includes Ghastly, Vampa, Holy Goof, and Brody X Devin.
Having dominated the EDM scene with his #1 record "The Wise & The Wicked" topping iTunes dance charts, the man has made appearances on headlining festivals around the world. In 2019, he became viral at Coachella for a remix for Pink Fong's "Baby Shark". With a quirky remix propelling him to the global stage, Jauz's EDM craft further gained its much-deserved attention.
Kicking off his career by playing the guitar and producing electro beats on his computer at age fifteen, he started gaining attention with his remixes. In 2013, his tracks caught the attention vaious DJs including Diplo and Skrillex. In 2014, he released his notable single "Feel the Volume" under Diplo's label, Mad Decent. In 2015, he collaborated with Skrillex for their single "Squad Out!".
Since then, Jauz had made big waves in the global EDM scene for his unique style and high energy sets. With a track record of sonic masterpieces up his sleeve, Jauz has become one of the world's sought-after EDM producers.
His track record includes collaborations with the likes of Skrillex, Tiësto, Marshmello, DJ Snake, Haliene, and so on. In 2017, he founded his record label named "Bite This".
As 2022 marks the big return of music to the global stage, Jauz is set to bring rising artists to the limelight at a mega celebration at his Bite This ! Block Party Tour. Don't miss out on Jauz and his favorite rising acts sharing the stage, set to ignite sonic energy as the crowd raves to electronic music that never fail to ignite the crowd's energy. Book your tickets now!