Hollywood Palladium | Los Angeles, California
The man who made Halloween truly scary, John Carpenter, comes to Hollywood Palladium on Wednesday 31st October 2018 for a musical fright-fest! The revered composer, film-maker and mind behind creepy cult classics like Halloween (1978) and The Thing (1982) will be performing all of his greatest scores at this very special event!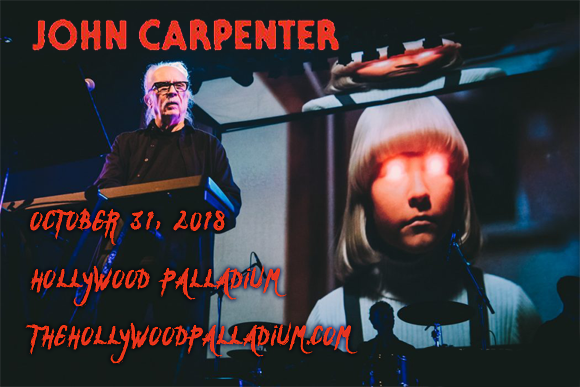 American filmmaker, screenwriter, musician, and composer John Carpenter is known for his cult classic films. Most commonly associated with horror, action and science fiction films of the 1970s and 1980s, Carpenter's most celebrated film and score is Halloween (1978). He is also known for directing Dark Star (1974), Assault on Precinct 13 (1976), The Thing (1982), Christine (1983), Big Trouble in Little China (1986), Prince of Darkness (1987), They Live (1988), and In the Mouth of Madness (1995). Carpenter is noted for composing or co-composing the majority of his films' music, and has released three studio albums: Lost Themes (2015), Lost Themes II (2016), and Anthology: Movie Themes 1974–1998 (2017). He won a Saturn Award for Best Music for the film Vampires (1998).