Hollywood Palladium | Los Angeles, California
Hard-hitting bass house DJ and producer JOYRYDE comes to Hollywood Palladium on Friday 26th July 2019 on the Brave World Tour! The tour supports the English beat-maker's debut album of the same name, so fans can expect an epic set packed full of brand new bangers, including the album's lead single, "I'm Gone"! Never afraid of mixing it up a bit, JOYRYDE keeps his sets fresh by embracing different EDM genres and keeping the crowd on their toes, so you know his shows are always gonna be something special!
"ive always wanted to do this.. so much work went into making it. all I want is to share it with you. id love to have you all there. these night will be for us" he announced on Facebook.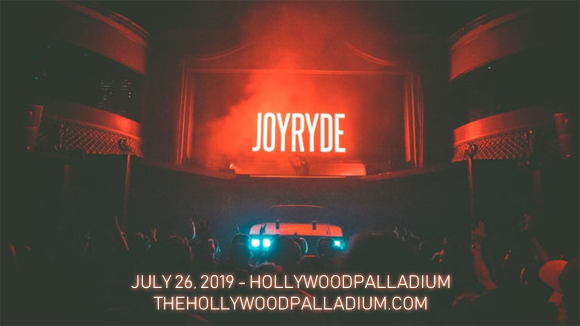 English bass house DJ and producer Joyryde began producing at the tender age of 9, and turned his hand to DJing at 13, inspired by his father, John Phantasm. He released his debut album, Can You Pick Me Up, aged 17 under the name Eskimo. He released five studio albums and several collaborations under the moniker, before reinventing himself as Joyryde in 2015. Joyryde signed to Skrillex's label Owsla in 2015 and he has released several singles on the label, including "Hot Drum, "Damn", "I Ware House" and "New Breed". 2019 sees the release of his debut album as Joyryde, titled Brave.