Hollywood Palladium | Los Angeles, California
Hiphop superstar and high profile collaborator Juicy J is bringing the hustle to Hollywood Palladium on Friday 22nd May! Riding high on the issue of his latest mixtape Blue Dream & Lean 2, and having recently released the video for his hit single "All I Need (One Mo Drank)", J is hyping up fans for the launch of his new album THC: The Hustle Continues! You know it's gonna be a good night!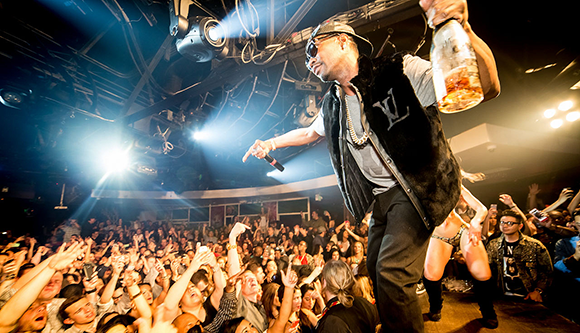 Founding member of Southern hiphop group Three 6 Mafia, rapper, songwriter and record producer Juicy J released his debut solo album, Chronicles of the Juice Man, in 2002 under North North Records in between Three 6 Mafia releases. The Three 6 Mafia song "It's Hard Out Here for a Pimp" from the 2005 film Hustle and Flow, led to Juicy J winning Best Original Song at the 78th Academy Awards with his fellow Three 6 Mafia members. 2009 through 2011 saw Juicy J moving away from Three 6 Mafia in order to focus on his solo career. During this time he frequently collaborated with fellow rapper Wiz Khalifa, appearing on his mixtapes and releasing some of his own including Blue Dream & Lean. In September 2012, Juicy J secured a recording contract with Columbia Records and Dr. Luke's Kemosabe Records, and in 2013 he released his third album Stay Trippy, featuring guest appearances on the album including Wiz Khalifa, The Weeknd, Lil Wayne, Nicki Minaj, Chris Brown. His fourth album Pure THC: The Hustle Continues, is slated for release in summer of this year.