Hollywood Palladium | Los Angeles, California
Two titans of metal, Killswitch Engage & Parkway Drive, have teamed up for a co-headlining tour that comes to Hollywood Palladium on Friday 19th April 2019!
"This co-headlining tour with Killswitch Engage is a landmark for Parkway Drive in North America," said Parkway Drive vocalist Winston McCall in a statement. "Having smashed our way across the land for over a decade now, it is a humbling and defining moment to be sharing this slot with true heavy metal icons and personal heroes. We have always aimed to maintain the highest standard of energy, connection and entertainment at our shows, a standard that has been set and maintained by KSE their entire career. The concept of how epic this tour will be is mind blowing to me. Bring on the insanity!"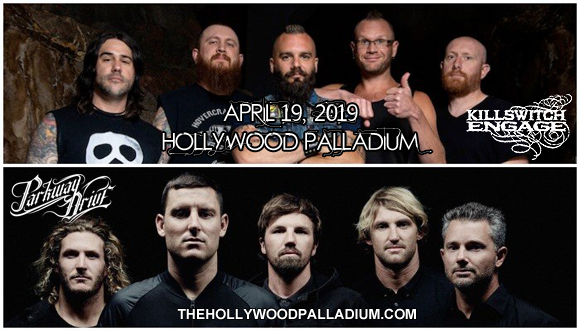 American metalcore band Killswitch Engage formed in 1999 in Westfield, Massachusetts from the ashes of metalcore bands Aftershock and Overcast. The band currently consists of vocalist Jesse Leach, guitarists Joel Stroetzel and Adam Dutkiewicz, bassist Mike D'Antonio, and drummer Justin Foley. The group made its debut with a self-titled album in 2000, followed by 2002's Alive or Just Breathing, which launched the single "My Last Serenade", propelling the album to number 37 on Billboard's Top Heatseekers chart. Their third studio album, 2004's The End of Heartache, served as a breakthrough for the band, reaching number 21 on the Billboard 200 and gaining gold certification from the RIAA. The album's title track led to a Grammy Award nomination in 2005 for Best Metal Performance. To date, the band has released seven studio albums and two live performance albums.