Hollywood Palladium | Los Angeles, California
One of the most exciting events this fall is set to happen at the Hollywood Palladium on 8th of November 2013. All the staunch metallers will revel in a rush of excitement as the Lamb of God and Killswitch Engage bring the Resolution tour in Los Angeles, California. So get ready with a full-blown show that will leave your soul hankering for more.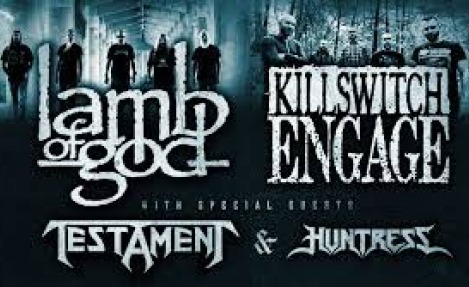 American heavy metal band Lamb of God embarks on another massive North American tour in support of their latest hit album Resolution in 2012. The album has been a major success since peaking at number one on the U.S Billboard   Top Rock Albums, U.S Billboard Top Hard Rock Album and U.S Billboard 200 charts. Its lead single "Ghost Walking" was released in December 2011. Since the band's formation in 1990, they'd been an influential icon of metal which is why they were considered part of the New Wave of American Heavy Metal movement. They have received a Grammy nomination for their 2006 album Sacrament which was also awarded as the Album of the Year by Revolver magazine. It was the best-selling metal album of 2006 and has also debuted at no. 8 on the Billboard 200.
Apart from Lamb of God, another one of the biggest names in metal Killswitch Engage will also be on tour! The group climbed up to fame ladder with the release of The End of Heartache in 2004 with the title track gaining a Grammy nomination for Best Metal Performance. The album peaked at no. 21 on the Billboard 200. Their latest album Disarm the Descent was released in April 2, 2013 and peaked at number one on the U.S Top Rock Albums and U.S Top Hard Rock Albums chart. They are famously referred to as one of the founders of metalcore.
This is going to be a sure-fire sold out show.  Grab your tickets now, while it's still on sale!