Hollywood Palladium | Los Angeles, California
Having recently announced the released of their hotly anticipated fourth studio album, American Dream, LCD Soundsystem are headed to Hollywood Palladium on Saturday 18th November 2017 for five nights in a row! Having disbanded in 2011, the band are back and better than ever, but tickets will sell out fast, so don't miss your chance to see them live!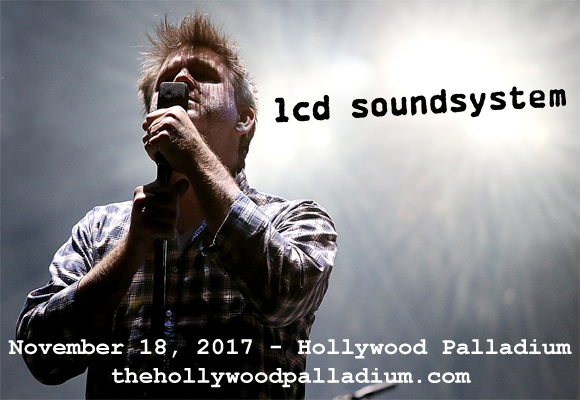 LCD Soundsystem is an American rock band that was formed in 2002 in Brooklyn, New York. Fronted by musician James Murphy, co-founder of DFA Records, the band's 2005 self-titled debut album was nominated for a Grammy Award, alongside their single "Daft Punk Is Playing at My House", which received a Grammy nomination for Best Dance Recording. The band's 2007 follow-up album, Sound of Silver, was released to critical acclaim and received another Grammy nomination for Best Electronic/Dance Album. LCD Soundsystem disbanded in 2011 (their Madison Square Garden farewell concert is chronicled in the documentary film Shut Up and Play the Hits and was also made available as a live album, titled The Long Goodbye, in April 2014), however they re-formed in 2015 and the band's new studio album, titled American Dream, will be released in September 2017.