Hollywood Palladium | Los Angeles, California
Supporting the release of his first album in four years, rock god Lenny Kravitz comes to Hollywood Palladium on Monday 8th October 2018! The "Are you Gonna Go My Way" singer will be bringing his fresh new material to the stage on the Raise Vibration Tour – named after the upcoming release. Fans can expect big things from the iconic performer, so don't delay – tickets available now!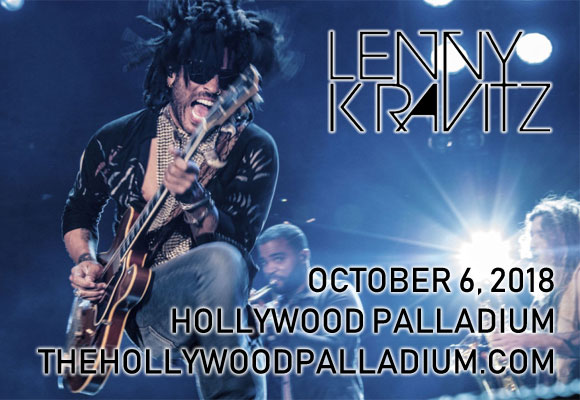 American singer, songwriter, actor and record producer Lenny Kravitz first came to public attention in the late 1980s/early 1990s as a singer and record producer. Kravitz's breakthrough hit, "It Ain't Over 'til It's Over" (from his second studio album, Mama Said (1991)), peaked at number two on the Billboard Hot 100. Kravitz's popularity continued with the release of his third studio album, Are You Gonna Go My Way (1993), which hit the number-one spot in both the UK and Australia as well as the Top 20 in the US, and launched the worldwide hit single of the same name. Kravitz went on to win the Grammy Award for Best Male Rock Vocal Performance four years in a row from 1999 to 2002, breaking the record for most wins in that category as well as setting the record for most consecutive wins in one category by a male. His eleventh studio album, Raise Vibration, is due for release in September 2018.