Hollywood Palladium | Los Angeles, California
"ESSKEEIT!!" rapper Lil Pump comes to Hollywood Palladium on Tuesday 6th November 2018 on the Harverd Dropout Tour! Named after Harvard Dropout, the artist's illusive and hotly anticipated second studio album, the tour sees Pump smashing out recent hits as well as all new material! Chances are the hot young talent may also be joined by some special guest stars for the night, so get ready for a hip hop extravaganza full of dope tunes and even some surprises…! Tickets available now!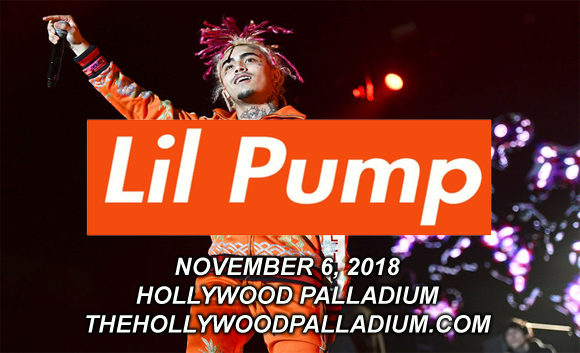 Lil Pump is an American rapper, best known for his 2017 "Gucci Gang". He first came to public attention the previous year through the music streaming site SoundCloud, where he featured on a collaborative freestyle track by producer Smokepurpp called "Lil Pump", which became his debut single. He released four more singles on SoundCloud in quick succession – "Elementary", "Ignorant", "Gang Shit", and "Drum$tick" – each receiving over three million streams. This foreshadowed the incredible success of his next two SoundCloud singles, "D Rose" and "Boss", which were major hits with over 70 million streams combined. Lil Pump shot a music video for "D Rose", the success of which led to a recording contract with Tha Lights Global and Warner Bros. Records. However, Lil Pump was a minor when he signed the deal with Warner Bros., rendering the contract void. His self-titled debut studio album, which features collaborations with Smokepurpp, Gucci Mane, Lil Yachty, Chief Keef, Rick Ross, and 2 Chainz, was released in 2017. The album launched the single "Gucci Gang", which became Lil Pump's first Billboard Hot 100 entry, peaking at number three. A second contract with Warner Bros. Records was drawn up in March 2018 and Lil Pump signed for $8 million. His second studio album, Harvard Dropout, was due for release on August 17, 2018, but in an Instagram video released that day, the star reported the album as "lost".