Hollywood Palladium | Los Angeles, California
Look out! The Good Witch is finally coming to town as Maisie Peters serves her upcoming album, live on stage as The Good Witch Comes to North America, her newest tour, makes a special stop at Hollywood Palladium on Saturday, 30th of September 2023. The "Psycho" and "Cate's Brother" singer is slated to release her sophomore album, "The Good Witch", this June 16th. Following her first serving of the new record with "Body Better", Peters just released a video for her new single "Lost the Breakup" – a track that explores layers of feelings, shot in Tokyo's vibrant streets. As Maisie Peters finally shares new music after her critically-acclaimed debut with "You Signed Up for This", a big new era awaits. Two songs in, and an ongoing series of tarot cards leading up to the record's full release, make sure to celebrate this milestone with Maisie Peters by booking those tickets now!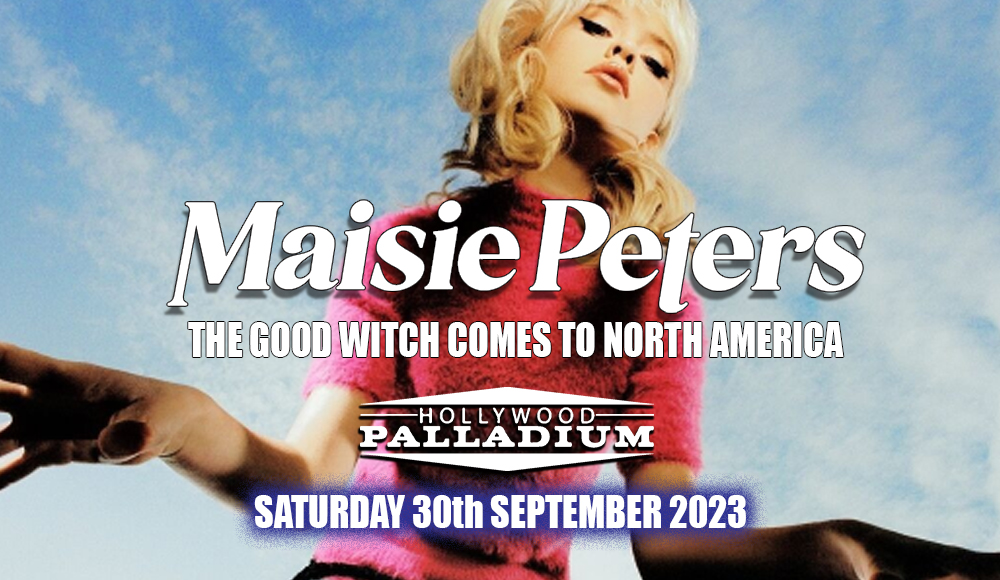 Watch out! The good witch is set to make rounds across North America as Maisie Peters gears up to bring her highly-anticipated sophomore LP, "The Good Witch", to the live stage at an extensive 27-date headlining North American Tour. Part of the roster is a special stop at Hollywood Palladium on September 30th. As the singer gave fans a taste of The Good Witch with new singles "Body Better" and "Lost the Breakup", Peters continues to impress with vulnerable, heartfelt, and honest songs that souls around the globe could relate to.
"The Good Witch" officially hits the airwaves on June 16, 2023, and Peters is currently dropping Tarot cards, teasing songs and what every track is all about, leading up to its official release. Every Tarot card is symbolic of every song off of The Good Witch.
"I really liked the idea of doing a song by song explanation before the album came out," Peters shared in an interview with Nylon. "There's so much that went into writing and making the songs that I really wanted to share with everybody and explain the process of making of this album was cool and special."
Sharing the reason behind the name of her upcoming album, Peters "felt like there was a lot of words that also felt synonymous with good witch, I sort of like the power within the good witch and femininity, danger, it feels sort of threatening. It feels like an interesting way to describe one's self, especially as a young woman. I like the destruction it suggest and the power it gives." she shared with Nylon.
From light to dark, exploring layers and depths of emotions that humankind could go through, Peters shares that The Good Witch encapsulates chronicles of her life the previous year. With "Body Better" and "Lost the Breakup" serving hard-hitting emotions, big surprises can be expected once the record makes its grand release. Think you'll shed a tear? Oh, we bet!
"This is my heart and soul, my blood on the page, the collection of stories that I've managed to capture in the past year," Maise shared. "I hope takes you on a journey whereby the end you feel like you've gotten lost in someone else's planet for a bit."
Writing her first song at nine, borrowing a friend's guitar, and busking at 15, Maisie Peters came a long way, fueled by her passion to share her life chronicles through the power of music. Making rounds in the indie scene, scoring a record deal, and opening for Niall Horan, Peters soon found herself amassing a growing audience for her craft. In 2021, she released her acclaimed debut LP "You Signed Up for This", hitting #2 on the UK Albums Chart.
Her hit singles and fan-favorite tracks include "Place We Were Made", "John Hughes Movie", "Cate's Brother", "Blonde", "Psycho", and "Not Another Rockstar". With new music coming out real soon, you'll definitely have new favorites to add to the 'I hope I hear this live at her concert' list.
As Maisie Peters embarks on a new journey of sharing heartfelt chronicles of her life over the past year, make sure to share this moment with The Good Witch at Hollywood Palladium by booking your tickets now!