Hollywood Palladium | Los Angeles, California
It's about to get really, really loud! MÅNESKIN Loud Kids Get Louder Tour comes to Hollywood Palladium on Monday, November 7th 2022. The critically acclaimed Italian four-piece-band MÅNESKIN began their careers busking on the streets of Rome. But, after their breakthrough performance at Eurovision, everything changed… Now they are leading the forefront of a very weird rock revival, and you have to be a part of it, so grab some tickets and come listen to some of the world's newest rock!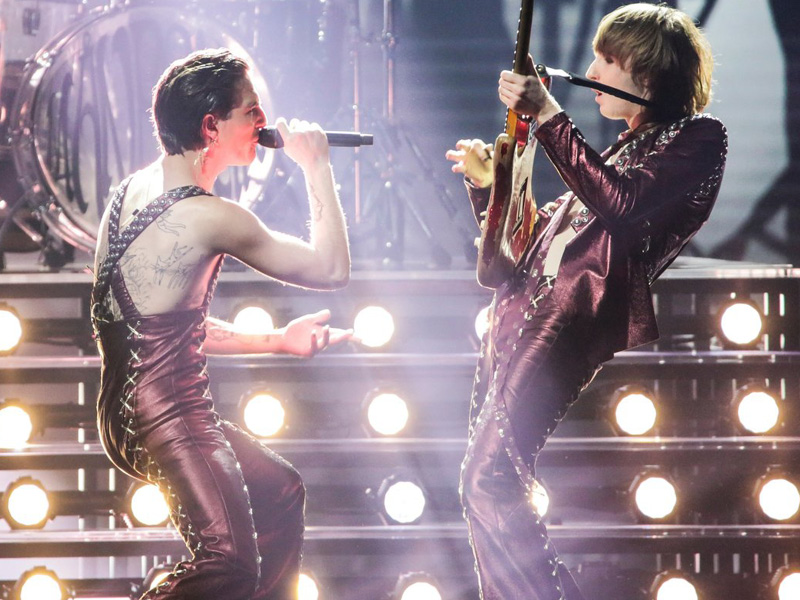 Music so damn good, it will get you up out of a coma! "A Ukrainian girl refugee came out of a coma after listening to Italian rock band Maneskin in a Turin hospital, sources said Friday, May 6. The 16-year-old had been listening to the Roman rockers, her favorite band, during her three-month coma after a car crash in which her father died as they were fleeing Ukraine."
"She is a great fan of theirs and last night, listening to one of their songs, she expressed her emotion," said Maurizio Beatrici, director of the hospital's neuro-rehabilitation facility. (ANSA).
Following their Eurovision success, MÅNESKIN's 2017 cover of "Beggin'" reentered world charts, peaking at number 6 in the UK, making them the first Italian act and the first Eurovision-associated act to have two songs charting in the top ten of the UK Singles. The song later debuted on the Billboard Hot 100 chart at number 78 and went on to peak at number 13, making them the second Eurovision-winning act in recent history to break into the chart. They were Billboards "Top New Rock Band of the Year," 2021's longest number 1 run at Alternative radio, and they won an MTV Europe Music Award for Best Rock Act. They amassed over 3 BILLION streams globally, and have climbed international charts to number 1 in numerous countries and on multiple digital platforms, including the number 2 TikTok song of 2021.