Hollywood Palladium | Los Angeles, California
One of the best ways to kick-start the year 2019 is to be hyped-up by one of the most dynamic rap artists of this generation. Indeed, Meek Mill is going for the kill as he paints towns and cities red with his 16-city date tour dubbed as the 'Motivation Tour'. As his name lights up the marquee at the Hollywood Palladium on Thursday, 28th February 2019, expect his followers to camp-out to get first dibs on tickets to the show. Now is not the time to shy away. Just go for it, click that 'book tickets' button now before it's too late.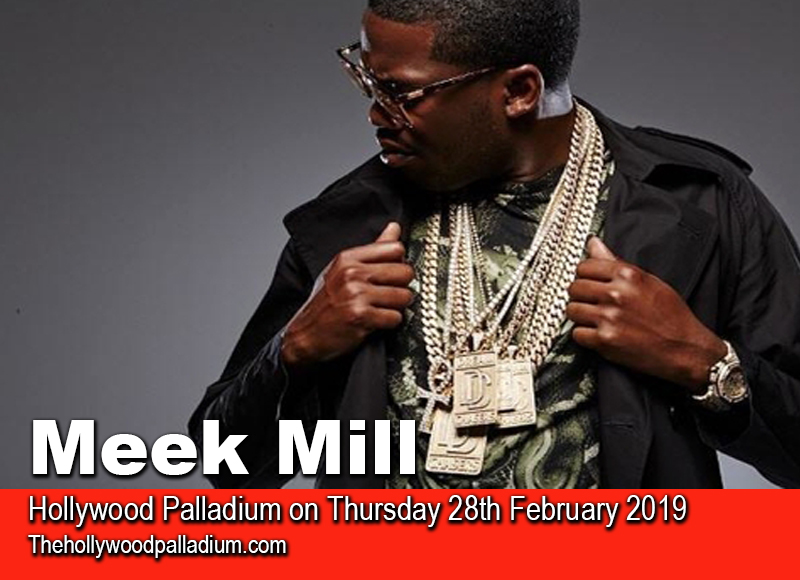 Philly rapper Meek Mill just rolled out dates to his 'Motivation Tour', covering 16 city dates all over the nation. After having had a turbulent year, Mill bounces back with a new album and is ready to hit the road.
Meek Mill, born as Robert Rihmeek Williams, channeled the desolation of his tragic family loss and difficult childhood into music, rap, in particular. By the age 16, his body of work which comprised of mixed tapes established his internet profile where fans began listening, reacting, and sharing his music. Soon enough, he built a cult following; and when he released his fourth mixtape 'Flamers 2: Hottest In Tha City', it set the wheels of his burgeoning career into motion. He secured a major label record deal, and in 2011, Meek Mill released his debut single, "Tupac Back", cementing his credibility and earning the respect of his peers as a legit force to reckon with. From there, Mill became part of the XXL "Freshman Class," where his dominance in the rap scene rose to the fore. To date, he has released four studio albums –Dreams and Nightmares (2012), Dreams Worth More Than Money (2015), Wins & Losses (2017) and Championships (2018), reaping gold and platinum awards. Mill is best known for his best-selling singles "All Eyes on You," "R.I.C.O.," and "House Party."
Catch Meek Mill on his 'Motivation' tour and be there as he slays and goes for the kill in giving his fans nothing less than his absolute best.