Hollywood Palladium | Los Angeles, California
The demon dolly herself, Melanie Martinez, is bringing her theatrical, highly-stylized, trap-influenced art pop to Hollywood Palladium on Saturday 9th November 2019! Martinez is touring to promote her highly anitcipated second studio album K-12 (her first new album in four years), which is accompanied by a full-length film, so fans can expect something extra special for this show!
"It's been a bit since I've been on tour and I'm incredibly excited to bring the movie to life on stage," Martinez says. "I'm putting all of my energy into making it not only visually stunning and pleasing to the senses but also a fun learning experience and a safe place to express yourself and be accepted for exactly who you are."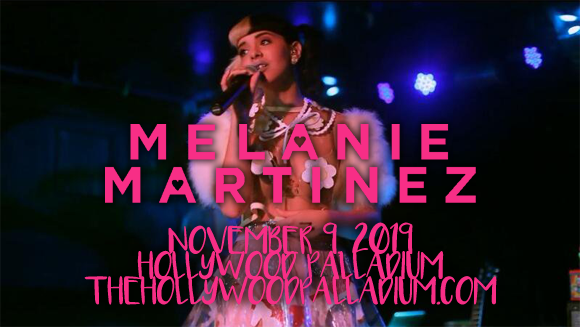 American art pop singer-songwriter Melanie Martinez came to public attention in 2012 when she appeared on the televised talent competitions the MSG Varsity Talent Show and, later that year, The Voice. In 2014, she was signed to Atlantic Records and subsequently released her debut EP Dollhouse, which peaked at number four on the Billboard Heatseekers Albums chart and launched the platinum certified single "Dollhouse" and the gold certified single "Carousel". Her debut studio album, Cry Baby (2015), was also certified platinum and launched the singles "Sippy Cup", "Mrs. Potato Head", "Cry Baby", "Pity Party" (which was also certified platinum) and "Soap". Her second studio album, K-12, is due to be released this year.