Hollywood Palladium | Los Angeles, California
Mexican rap rock band Molotov come to Hollywood Palladium on Saturday 24th August 2019 in support of their new CD/DVD live album "¿Dónde Jugarán Lxs Niñxs? Desde El Palacio de los Deportes"! Their expletive-laden, sexually and politcally-charged biligual tunes brought them to the forefront of the Latin rock explosion of the late 1990s/early 2000s and have kept them storming stages across the globe for the past two decades, entertaining international crowds with their irreverant calls to arms!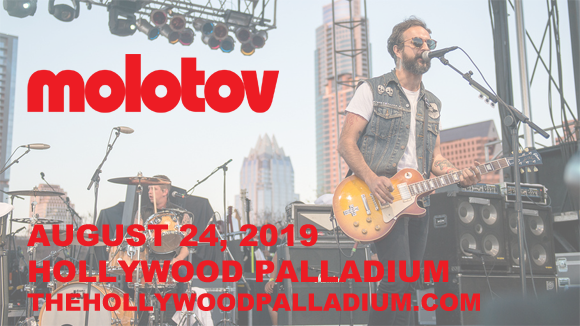 Politically-charged Mexican rock and comedy rap group Molotov formed in 1995 in Mexico City. The group consists of Ismael "Tito" Fuentes de Garay (electric guitar, vocals), Miguel Ángel "Miky" Huidobro Preciado "Huidos" (bass guitar, drums, vocals), Juan Francisco "Paco" Ayala Gonzalez (bass guitar, guitar, vocals), Randall "Randy, El Gringo Loco" Ebright (drums, guitar, bass, vocals), and the band's lyrics are sung and rapped in both English and Spanish by all four band members. Molotov's debut album, ¿Dónde Jugarán las Niñas?, was released in 1997 and they have released five studio albums to date, their most recent being 2014's Agua Maldita.