Hollywood Palladium | Los Angeles, California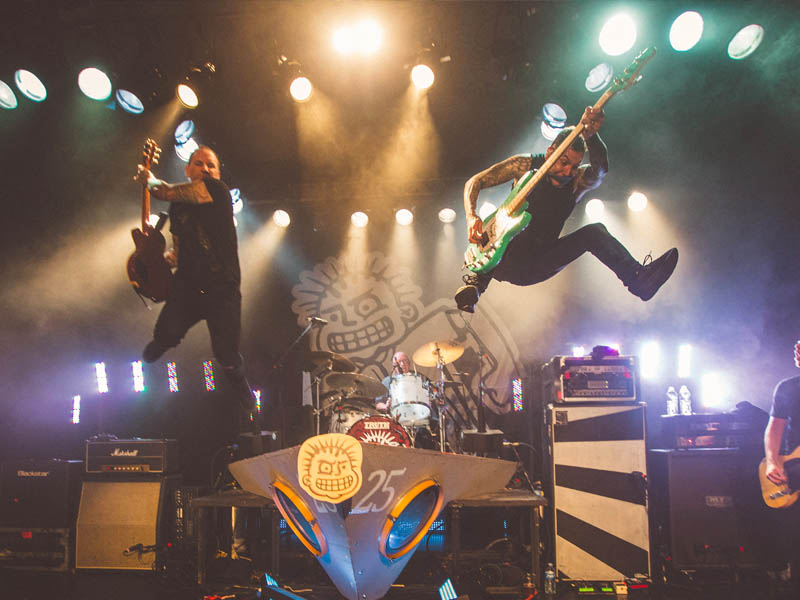 Start your year right with an incredible punk-driven extravaganza! Imagine celebrating the new year with the celebrated misfits of the music circuit! Enjoy a sublime soundscape with the purveyors of pop punk, MxPx, who decided that it's a great idea to greet year 2024 with a highly-awaited punk show at the Hollywood Palladium! If you think that's great news, wait till you learn that they're bringing along fellow pop-punk icons Less Than Jake, Reliant K, and Smoking Pops! If you've had a little too much grub during the holidays, it would be a good idea to let loose and mosh away some calories at this outrageous concert happening on Saturday, 6th January 2024! If you're a fan of pop punk, this is the line-up you wouldn't want to miss! Moreover, MxPx is currently promoting their latest album, Find A Way Home. So expect plenty of new outstanding hits from their exhilarating setlist this winter! Catch MxPx and their special guests by scoring tickets now through the Get Tickets link!
This is your opportunity to celebrate the beginnings of 2024 with a God-given punk show featuring none other than the pioneers of the pop-punk subgenre. MxPx is back with a new album, which only means that fans are in for an excellent year with multiple shows across the U.S. Lucky for fans in Los Angeles, MxPx has chosen to start their year in town with a groundbreaking gig at the Hollywood Palladium! They also happen to bring along the illustrious fellow pop-punk purveyors Less Than Jake, Reliant K, and Smoking Pops.
MxPx's Find A Way Home follows the band's string of numerous studio efforts. The Washington natives, who have been regarded as the pioneers of the pop-punk movement, have released significant works, including 1995's Teenage Politics, 1996's Life in General, and 1998's Slowly Going the Way of the Buffalo. In 2000, the band dropped The Ever Passing Moment, their first album to go number one on the U.S. Christian charts. The album spawned the single "Responsibility," which peaked at number 24 on Billboard's Hot Alternative Songs chart. In 2005 and 2007, they topped the charts again with Panic and Secret Weapon.
Florida-born punk band Less Than Jake also puts their career-spanning hits in the spotlight. The last effort that came out was Silver Linings in 2020. The ninth album precedes several chart-performing albums, such as Hello Rockview, Borders & Boundaries, Anthem, and more. Their 2003 effort, Anthem, became their highest charting effort, peaking at number 45 on the Billboard 200. Less Than Jake has been hailed as an excellent live performer. Fans have praised them for the seamless and high-energy setlists. If you're a pop punk fan, you indeed have an ecstatic time seeing Less Than Jake light up the stage at the Hollywood Palladium.
Ohio-born rock band Relient K is similar to MxPx in their Christian tendencies. The quintet's excellent works have earned them numerous Grammy nominations, including a nomination for Best Rock Gospel Album. They also notably won two Dove Awards. The band's 11 album discography will take center stage on Saturday, 6th January 2024, as they hype up the crowd for MxPx.
Lastly, fans can also catch veteran pop punkers Smoking Popes. The Chicago-based quartet is ready to belt out their iconic fan favorites, such as "Need You Around," "Megan," "Pure Imagination," and many more.
Tickets to see MxPx and special guests at the Hollywood Palladium on Saturday, 6th January 2024, are now available!