Hollywood Palladium | Los Angeles, California
Trent Reznor and Atticus Ross, aka industrial rock superstars Nine Inch Nails will be performing their second in a four-night-run at Hollywood Palladium on Saturday 8th December 2018! With hot new material from their brand new album, Bad Witch, the politically charged, genre-defining outfit will be joined by Scottish alt-rockers The Jesus and Mary Chain, making this a very special line-up!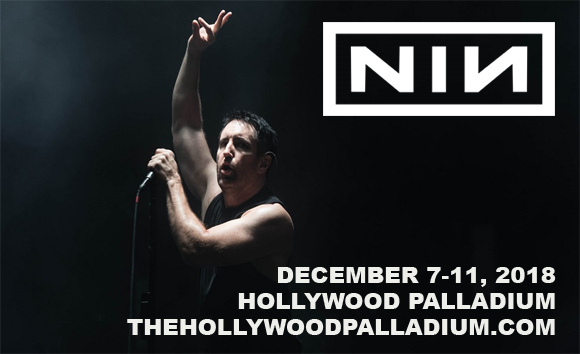 Started in 1988 in Cleveland, Ohio, by founder and primary producer, singer, songwriter, and instrumentalist, Trent Reznor, Nine Inch Nails is an American industrial band. In 2016, English musician, songwriter, record producer, and audio engineer Atticus Ross was made a permanent member of the band, the only official member other than Trent Reznor. Nominated for thirteen Grammy Awards, winning twice for the songs "Wish" and "Happiness in Slavery" in 1992 and 1996, respectively, the band made waves in the 1990s with the release of two iconic albums -The Downward Spiral (1994) and The Fragile (1999). To date, Nine Inch Nails has sold over 20 million copies worldwide, with 10 million sales certified in the United States alone. Their ninth studio album, Bad Witch, is slated for release in June 2018.