Hollywood Palladium | Sunset Boulevard
Are you ready to ROCK? I said… ARE YOU READY TO ROCK?!! Opeth with supporting band Graveyard are live on stage at the Hollywood Palladium on Wednesday 4th March 2020! You don't want to miss this absolutely massive show! Fresh from the release of their 13th studio album "In Cauda Venenum" the band are ready to rock again, bringing with them their old favorites as well as some brand-new material from their latest album. Get your tickets Now!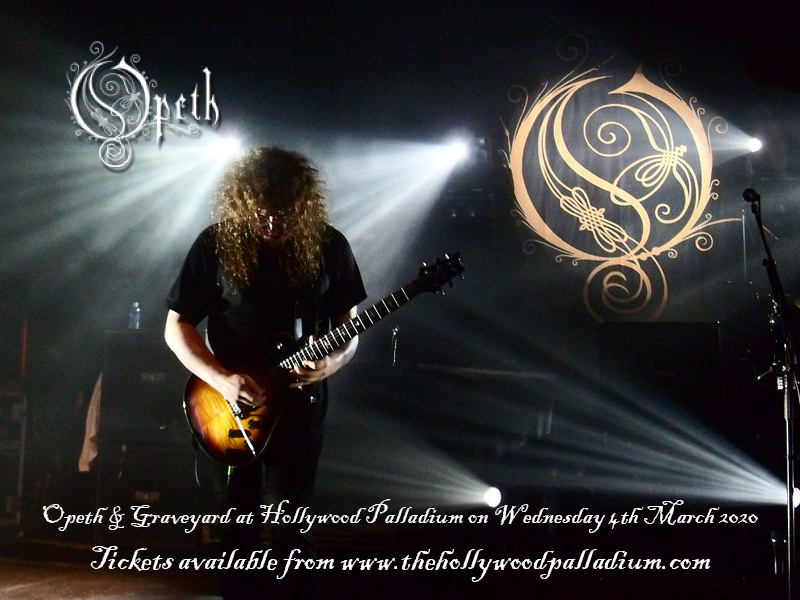 Opeth is the Swedish progressive rock band from Stockholm incorporating progressive, folk, blues, classical, and jazz influences into its usually lengthy compositions, as well as strong influences from death metal. Opeth is also well known for their incorporation of Mellotrons in their work and many songs include acoustic guitar passages and strong dynamic shifts, as well as both death growls and clean vocals. Formed in 1989, the group has been through several personnel changes, including the replacement of every single original member. Lead vocalist, guitarist and songwriter Mikael Åkerfeldt has remained Opeth's primary driving force since the departure of original vocalist David Isberg in 1992. Opeth rarely made live appearances supporting their first four albums, but since conducting their first world tour after the 2001 release of Blackwater Park, they have led several major world tours and this one looks to be one of their best yet!
Opeth are bringing along Graveyard the Hard rock, neo-psychedelia, psychedelic rock, blues rock and occult rock band also from Gothenburg, Sweden. So, this is going to be a very, very dark night indeed! Graveyard have playes SXSW and Rock am Ring 2019,they have toured with Wichcraft, Clutch and Soundgarden in the past and are no strangers to big open venues like the Hollywood Palladium.