Hollywood Palladium | Los Angeles, California
Miss Bad a$$ is coming to get the party started! Brace yourselves for a high octane performance that takes concert shows to a whole new level… Make way for P!nk as she is ready to set the Hollywood Palladium on fire, on Thursday, 7th of February 2019. An artist like no other, P!ink is a consummate master showman who can pull-off an over the top performance, figuratively and literally. Fierce attitude, powerhouse showmanship, death-defying stage acrobatics, and above all, music coming straight from her heart and soul. Yes, that's P!nk ! Grab this chance now to book tickets. Don't miss this for the world!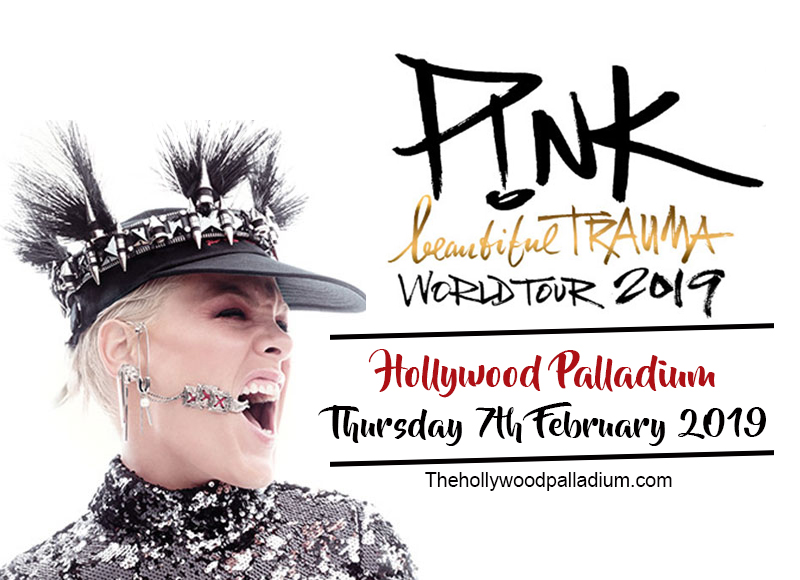 P!nk's Beautiful Trauma world tour has just begun, and yeah, she's just getting the party started all over the world. Be there as she drops a fireball of amazing and jaw-dropping showmanship at the Hollywood Palladium on Thursday 7th February 2019.
It is a well known fact that her studio efforts have spawned massive hits like "Get the Party Started", "Lady Marmalade," "Raise Your Glass", "F*ckin' Perfect", "Blow Me", "Try", "Sober", "Just Like A Pill", "Just Give Me A Reason", "What About Us", and a whole lot more. She sold millions of records and has numerous golds and platinums to her name. She has endeared herself to legions of followers with her fierce, kick-a$$ attitude; yet she is not afraid to bear her heart and soul and open up her vulnerability.
Yet P!nk is born and very much at home on stage. She rules, dominates, and slays. Her towering voice reverberates all over halls and stadiums with booming yet emotionally piercing power. She is not afraid to risk life and limb, as she literally swings, flies, jumps, flips, and throws herself all over the stage and reaches out to fans seated at the furthest and highest bleachers. She moves with grace, beauty, and strength. She is a raging and infectious ball of energy when she engages with her audience. The concert scene is like a palette is filled with a myriad of colors, but nothing stands out quite like P!nk!