Hollywood Palladium | Los Angeles, California
FOMO or the fear of missing out. Nobody wants the feeling of being left behind, especially if the hottest and fastest rising boyband will be coming 'round the neck of the woods to do one of their headlining shows. PRETTYMUCH's "Fomo" tour is the buzzword, a hot trending topic on social media to date. Part of this 24-city trek is a stopover here at the Hollywood Palladium on Friday 9th August 2019. Their most devoted fans will definitely be part of this tour, and missing out the chance to book tickets is something that everyone dreads and fears. Secure your seat now by clicking 'buy tickets' on this site. Prettymuch easy and effortless to catch this show at a venue near you.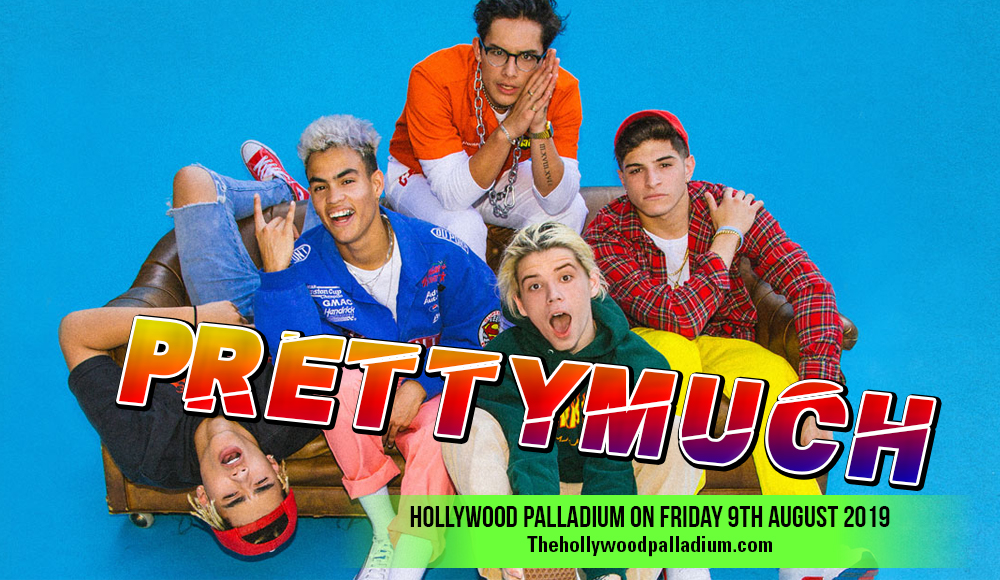 Simon Cowell and Sonny Takhar individually discovered five talented and charismatic boys, grouped them together, mentored, and trained them until they were ready to be launched collectively as PRETTYMUCH. In the vein of replicating the colossal success of a previous Simon Cowell-artist discovery group he called One Direction, he now came up with Prettymuch. And yes, they're proving that that Cowell boyband formula is yet again yielding magical results.
Austin, Brandon, Edwin, Nick and Zion. They've got the vocal range reminiscent of Charlie Puth, and the moves and the swag of Michael Jackson and Bruno Mars. Prettymuch an explosive fusion of talent that they stepped the gates with a whisper, yet were welcomed at the door by fans with raving screams. They performed their 2017 debut single "Would You Mind" at the Teen Choice Awards and MTV Video Music Awards. They ushered in 2019 with a single "Summer on You," which was written by Ed Sheeran. They released follow-up singles "Solita" and "Real Friends"; and capped the year with a sold-out headline Funktion Tour last fall, plus played the main support on Grammy nominee Khalid's Roxy Tour last summer.
Don't let the fear of missing out happen to you. Act fast, beat the buzzer before the sold out sign goes on this highly in demand tour!