Hollywood Palladium | Los Angeles, California
Attention all Shrek fanatics, meme enthusiasts, and party animals! The legendary Shrek Rave is coming to the iconic Hollywood Palladium on Saturday, 27th May 2023. Get ready for a night of meme-worthy entertainment, costumes, and electrifying EDM music! It will be a grand Swamp Gala and if you couldn't imagine mixing those two together, don't worry! The most important thing is that you will be having a crazy good time! It's a chance for you to let go of the pressures from reality and unleash your inner ogre. You can also wear other Shrek-inspired costumes and hey, maybe you'll find your folks in the party. That's not all! It's even more perfect as the gala will be held in the Hollywood Palladium. This venue is perfect with its wide dance floor and their talented staff handles every detail for an epic, immersive experience. Don't hesitate and join us in this Shrek-tacular event. Get your tickets now!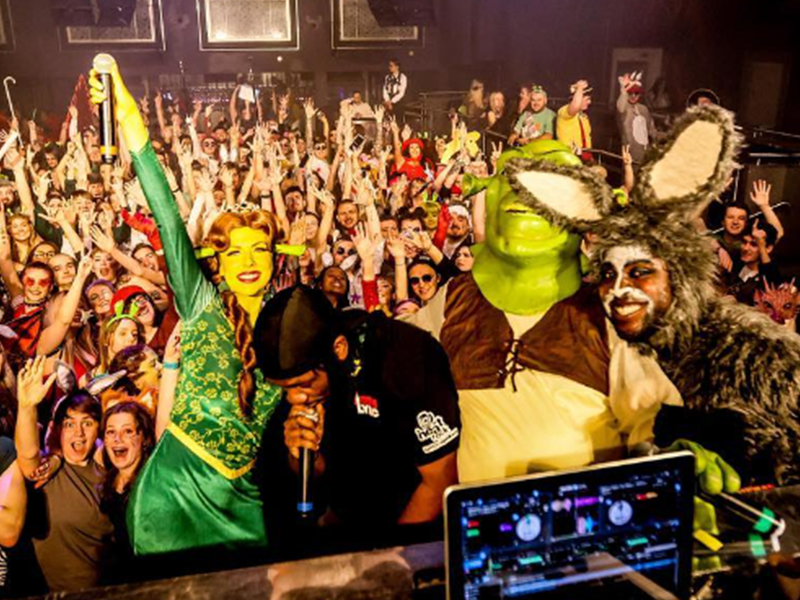 When one shouts "Get off my swamp!", what's the first thing on your mind? Definitely not a gala! But this Shrek Rave at Hollywood Palladium this May 23, 2023 isn't your typical event. Inspired by the beloved Dreamworks movie series, this rave was founded by the king of memes himself, Ka5ssh.
This vision by the meme king turned this living, breathing meme in a party rave form into a nationwide sensation with even parties in other countries! It started only recently when so many people craved for some form of social entertainment after being cooped up in the height of the pandemic.
The first rave which happened in Los Angeles was an instant hit. The bottled up thirst for a party added with Rico Nasty and Yung Gravy, the twin flames of cultural fate, set the stage for the proverbial future of the rave. Now, the Shrek Rave is everywhere from East Coast to West Coast, from Rust Belt to every other region in the country. It was unsurprisingly a huge success and it even gave birth to a successor, commonly known as the Spongebob Rave.
The rave isn't only a stage to get your ogre on but also for people to connect. In an interview, two men dressed as fairy tale pigs said that they're looking for a third. Another describes the party as a fantasy event where everyone is welcome.
Ka5sh, the mastermind of this event, noticed different personality types in the rave. Some people group up and even dress like the three blind mice. He also noted that the sexy ones dress up as Lord Farquaad. The people steadily poured in the building under the bright green lights. The meme continues to expand. The costumes are getting more fantastic and the dance renditions just keep getting even more epic.
The Shrek Rave on May 27 that will be held in Hollywood Palladium will be Gala-themed. So expect dancing in a swamp-infested ball with classic soundtracks from the franchise movie! Get your costumes and ball gowns ready. The dancing floor of the iconic Hollywood Palladium that has hosted historical events is waiting for you. Buy your tickets now and join in the fun!