Hollywood Palladium | Los Angeles, California
Are you ready to see Snails this year?? The rising vomitstep master is about to release his long-awaited debut album and he's accompanying it with a HUGE tour!! Prepare for The Shell – it's all happening at the Hollywood Palladium on Saturday 20th October 2018!! What are you waiting for?? Hit that button and grab your tickets.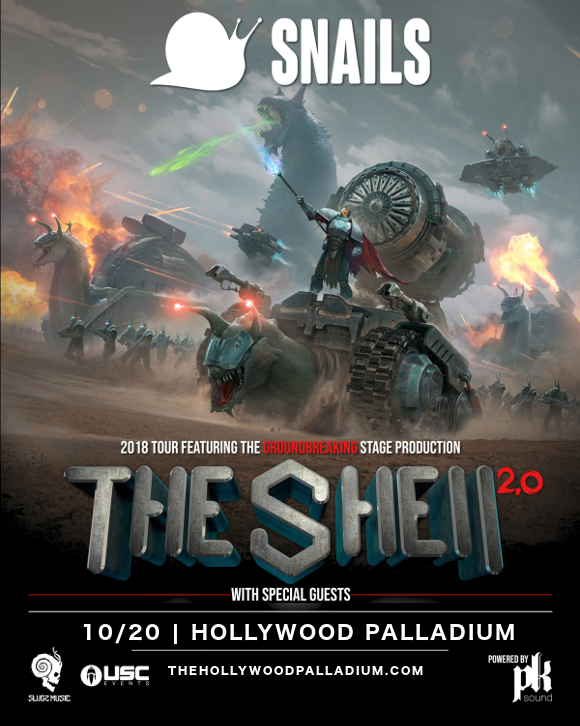 When he first came on the scene in 2012 with the single "Bubble Gun," Frédérik Durand, known to the world at large by the name Snails, captured the electronic music scene with his distinctive, highly distorted, squelching brand of bass music, referred to by the artist as "vomitstep". Earning respect from the likes of big names in EDM including Skrillex, Snails' hard-hitting, thoroughly different sound has earned him a huge worldwide following.
Snails uses the software Reason, unusual for major producers, and in addition, credits a love for various genres as part of the reason for his unique sound. "When I play, I want to play metal songs, and when I produce, I want to go hard — do some riffs, make something similar," he explained in an interview. "I come from the background, and I feel like a big part of bass music is in that genre. When I see all the people head bang and break their neck and be like, 'oh my God!', it's good." "That brings me back to when I was going to see Slayer."
Fans of Snails can't afford to miss the tour with his first full-length album. Don't delay – get your tickets now!