Hollywood Palladium | Los Angeles, California
"Vomitstep" fans unite at the Hollywood Palladium – none other than SNAILS is on The Shell Tour, coming to knock your socks off on Friday 24th November 2017!!Tickets available now – grab 'em while they last!!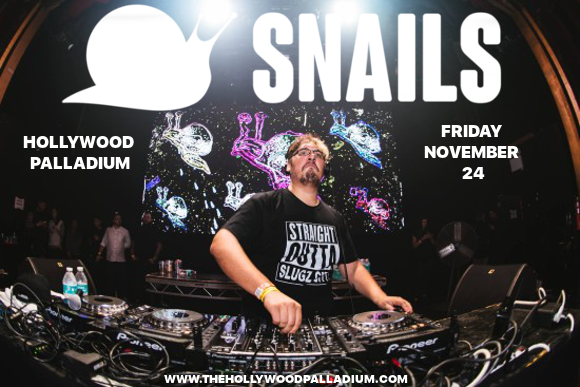 Snails is the working name of Frédérik Durand, the Canadian producer/DJ. Kicking off with his debut release "Bubble Gun," in 2012, Snails rapidly built up a reputation for his signature dubstep, described by one Reddit user as sounding as if "someone dropped a spoon in a garbage disposal to the rhythm of the Space Jam sound track."
Urged onwards by his mother, Durand took a risky move in furthering his career as a DJ by quitting his other job – in graphic design – and living off the savings he'd earned in his two years as a graphic designer, putting every ounce of his energy into honing his craft to perfection. It was a move of absolute commitment.
"I left my girlfriend, I left my friends, I left everything," Durand reflected. "I locked myself in the studio for like three months, and did 'Dirty Raxxx,' 'RUBBR,' 'KRMT,' 'Wild' — all the songs that made me break through."
His dedication, sacrifices and sheer hard work paid off – now, Snails is recognised by and works alongside artists including Skrillex, Marshmello and Flosstradamus.
Get ready for an intense live show – grab your tickets now fir The Shell Tour and prepare to experience Vomitstep for yourself!!