Hollywood Palladium | Los Angeles, California
Get ready, Los Angeles, for the master of art rock is back! That's right, its the phenomenal St. Vincent, bringing her latest album, "Masseduction," to the Hollywood Palladium on Monday 29th October 2018!! No St. Vincent fan can afford to miss this – grab your tickets to see her NOW while they last!!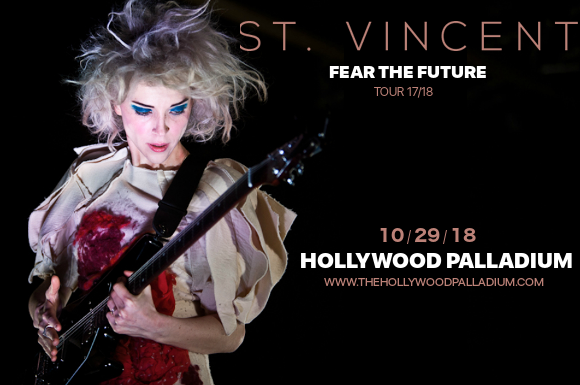 Known for her distorted guitar style and jarring, often challenging structures and arrangements of her songs, St. Vincent accompanies all this with strange, oblique, disjointed, cryptic, or dystopian lyrics. "I like when things come out of nowhere and blindside you a little bit. I think any person who gets panic attacks or has an anxiety disorder can understand how things can all of a sudden turn very quickly. I think I'm sublimating that into the music." St. Vincent's music could well be described as more of an all-senses experience than a work of art intended for the ears along.
Described by the artist as her most "personal," album so far (with the others being more along the lines of concept albums in which St. Vincent played a charcter), her latest album, "Masseduction," is her first to hit the top ten of the Billboard 200 – but not her first to be met with virtually unanimous praise from critics. And fans have more to look forward to, with the follow-up to "Masseduction," said to be already well under way and not too far off from release.
What are you waiting for?? Grab those tickets to see St. Vincent NOW while they last!!