Hollywood Palladium | Los Angeles, California
If you like your musicians a little wacky, you're in luck. The phenomenal multi-skilled musician and artist Annie Clark, better known by her stage name St. Vincent, is about to embark on her Fear The Future tour, bringing her unique brand of art rock to the Hollywood Palladium on Thursday 25th January 2018. St Vincent fans can't afford to miss out – tickets available now!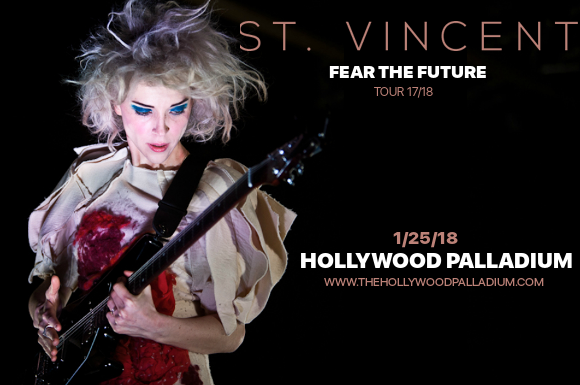 Starting her musical career with a course at the the Berklee College of Music, Annie Clark went on to become part of Polyphonic Spree as well as a touring band member for Sufjan Stevens. In 2006, she took the name "St. Vincent," from the lyrics of a Nick Cave song, and began work on her first solo album. "Marry Me" was released in 2010 to a warm critical reception, with comparisons being drawn to the likes of other great musician-artists such as Kate Bush and David Bowie. Over the following years St. Vincent released another three albums, with her fourth, "St. Vincent," her most successful yet – it was named Album Of The Year by NME,The Guardian, Entertainment Weekly, and Slant Magazine, and won the Grammy Award for Best Alternative Album!
Now, St. Vincent is back with an all-new album, and she says it's even better than, as well as very different to, the last. We can hardly wait to experience it all live – can you?? Then what are you waiting for – get your tickets to see St. Vinent at the Hollywood Palladium TODAY!