Hollywood Palladium | Los Angeles, California
That's right, emo fans.. it's been a whole 20 years since the formation of Taking Back Sunday!! Time flies, doesn't it? Our childhood favourites are celebrating with a MASSIVE North American tour and the release of their compilation album "Twenty". The tour brings them to the Hollywood Palladium on Thursday 11th April 2019 – DON'T miss out on what is sure to be one of their biggest and best shows yet!! Grab your tickets to see Taking Back Sunday today!!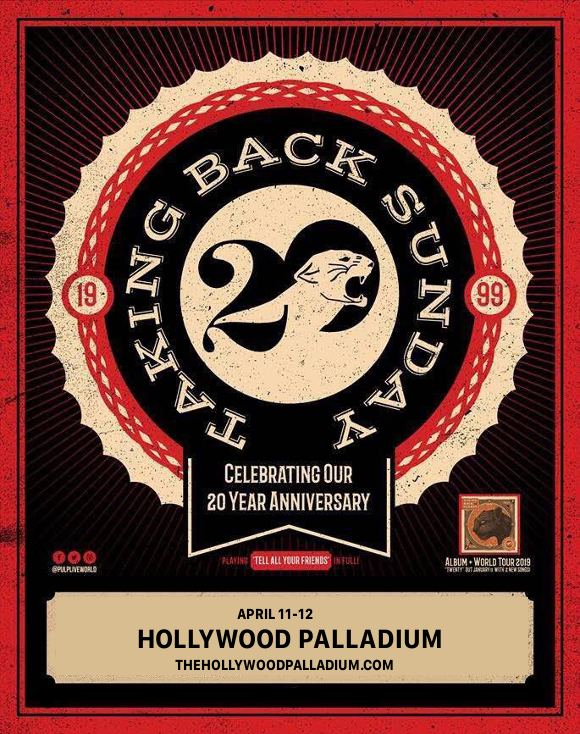 One of the pioneering bands of the emo, pop-punk and alternative music scenes of the 2000s, Taking Back Sunday have formed an essential part of many of our teenage years. You'll never be able to hear "MakeDamnSure," the breakout single from their third album "Louder Now" without experiencing a wave of nostalgia!
The 23-track compilation album "Twenty," is due out on January 11th. "It feels strange to say out loud…2019 marks 20 years since I joined Taking Back Sunday and my life changed forever," Adam Lazarra marvelled in a press release. "So, next year we will be travelling the world to celebrate the amazing brotherhood, music and life we have created together over the past 20 years. We hope you can join us for what is sure to be an experience to remember."
Get ready to celebrate Taking Back Sunday's legacy with them live – what are you waiting for?? Grab your tickets today and get ready to re-live the emo days with Taking Back Sunday at the Hollywood Palladium!!