Hollywood Palladium | Los Angeles, California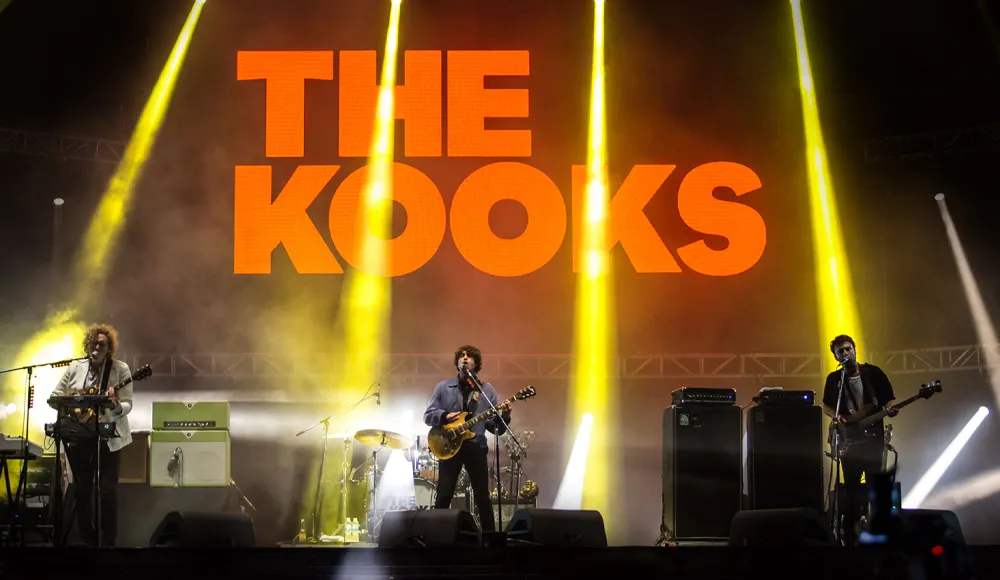 Celebrating over 15 years since the release of their infectious debut album "Inside In / Inside Out", pop-rockers The Kooks are throwing massive parties in celebration of their iconic record. This time around, they're bringing along The Vaccines, who also happens to be celebrating the release of their new album. Coming back to the US "the first time in a long time", the band marked 16 stops for their new trek - including a special stop at Hollywood Palladium on Thursday, March 21 of the new year. The record is definitely full of anthems that strike growing pains, and The Kooks are performing it in its entirety. Striking the emotions of every growing pain a teenager faces, the album became a Youngblood hit. To this date, it remains to be a compelling pop-rock masterpiece. Taking you back to their glory days of 2006, it's a show you just can't miss. Book your tickets now!
The Kooks just announced that they're heading back to the US, "the first time in a long time", in celebration of their iconic debut album "Inside In/Inside Out". The British pop-rockers are all set to perform the acclaimed album in its entirety at every stop for its 15th anniversary. They're also bringing along a special guest, The Vaccines, who also happens to be celebrating their new record, "Pick-Up Full Of Pink Carnations". Back in 2021, The Kooks released a 15th Anniversary deluxe edition reissue of their debut record, including bonus tracks featuring alternate takes and demos. This time around, everyone's in for a live treat.
"Inside In/Inside Out" is definitely one heck of a banger, striking the feels of every teenager-at-heart going through life's pains, it spoke to listeners on a whole other level. Though the record coincided with the massive release and media attention to Artic Monkeys' debut "Whatever People Say I Am, That's What I'm Not", The Kooks' debut offering entered the UK Albums Chart at #9 and peaked at #2. The hit record went on to become certified 5x Platinum by the BPI, with sales crossing over 1.5 million records.
In a revisit by uDiscoverMusic, "These are anthems for the coming-of-age listener, driven by love, lust, and infatuation," wrote Harriot Smith. The record definitely tackles jarring adolescent reflections with the album's unique energy and vibe. "Inside In/Inside Out" shares memorable hits and fan favorites including "Time Awaits", "Sofa Song", "You Don't Love Me", "She Moves in Her Own Way", "Ooh La", and "Naïve".
The record definitely remains to be a hard-hitter, something that generations of listeners will find themselves to keep relating to. Smith continued to write "It's impressive to hear how relatable it all still sounds. Multiple generations have now come to Inside In/Inside Out, and still feel its power," sharing how its tracks such as "25" still share the same nostalgic force to the youth.
Though the record was met with a few setbacks by critics such as Pitchfork describing the album as "youthful overconfidence" and a lack of direction at the time, Inside In/Inside Out's success wasn't about the technicalities of producing a "perfect" debut. It's about the power that music holds to influence and strike the feels.
"We didn't sit down with a blueprint," frontman Pritchard shared in an interview with Sunday Business Post in 2008. "We just naturally developed and we didn't try to shape or mould ourselves to anything.." Hopping into the studio with a multitude of tracks inspired by a variety of genres, the record just fell into place, albeit with an "incredible amount of patience" from their producer Tony Hoffer.
An album that divided critics' opinions, some praising its exploration and uniqueness while some targeting its sonic disorganization, The Kooks proved that great music isn't about appeasing critics or putting out perfect melodies. It's about every listener being able to relate and feel every message weaved by the band.
Don't miss out on the INSIDE IN/INSIDE OUT TOUR by booking your tickets now!