Hollywood Palladium | Los Angeles, California
Fans of The Kooks, get excited!! Your favorite band are BACK in 2019, on tour with their latest album, "Let's Go Sunshine"!! Coming to the Hollywood Palladium on Tuesday 12th February 2019 – don't miss it! Tickets are expected to sell FAST, so don't delay – get yours NOW while they last!!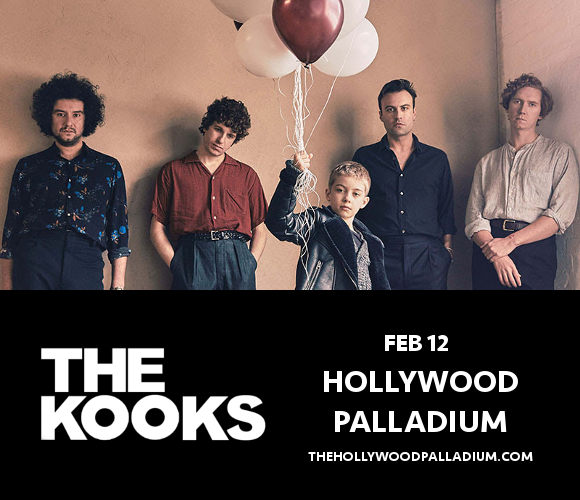 Formed in Brighton, United Kingdom, in 2004, and taking their name from a line in a David Bowie song, the Kooks are currently comprised of vocalist and guitarist Luke Pritchard, guitarist/keys player Hugh Harris, bassist Peter Denton, and drummer Alexis Nuñez. Directly influenced by music of the British Invasion in the 60s and the later post-punk revival, the Kooks have dabbled in various genres including ska, rock, funk, Britpop and hip-hop, but simply describe themselves, for the most part, as "pop".
The most recent record by the band reflects their efforts to remain true to the sound they wanted to create, writing much of the material in advance of recording, rather than writing on the spot in the studio. "On this album it wasn't like there were discussions in the band on this, but there were a lot of people around us saying things like, oh, you should go more modern, or use this producer," Luke Pritchard revealed in an interview. "We made a very clear decision to stick to our guns, and to stick to being what we think we stand for."
And the result has been worth it – "Let's Go Sunshine" is the band's highest charting album since their number one "Konk"! What are you waiting for?? Grab those tickets and experience all the new sounds LIVE!