Hollywood Palladium | Los Angeles, California
After a brief break and finishing military service, South Korean pop-rockers, The Rose, are set to heal together and launch a big new comeback era as they drop their first full-length album "HEAL". As they serve some healing energy with exciting new music, the boys are set to rock stages around the globe at the Heal Together World Tour. Having brought in pop-rock gems such as "She's in the Rain", "Sorry", and "Red", fans are in for explosive surprises as The Rose launches their big comeback. Catch the boys performing their best hits and new music, and throw big surprises at Hollywood Palladium on Sunday, 20th of November 2022 by booking your tickets now!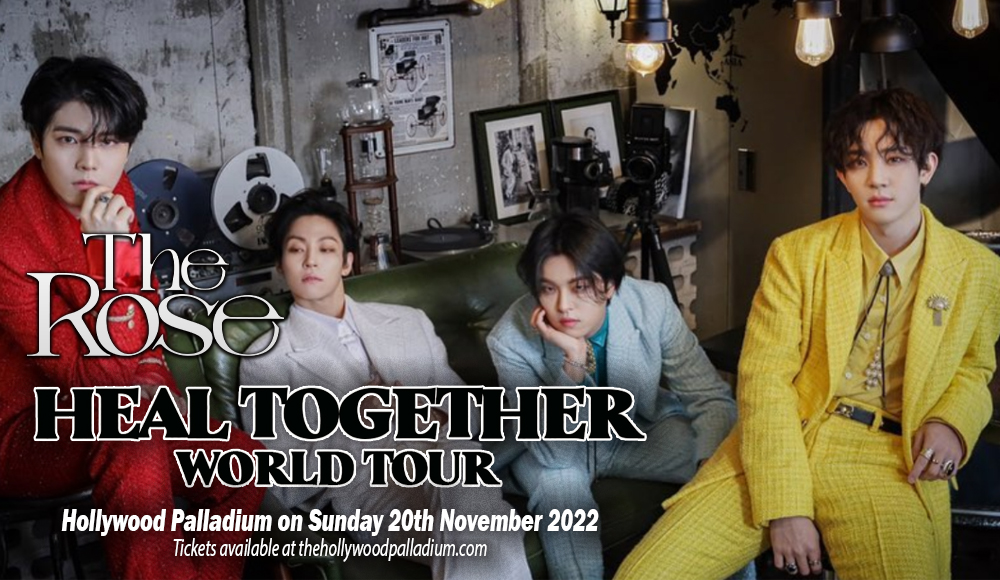 With roots in busking and rising as an indie act, The Rose soon started winning the hearts of fans across the globe for their fresh offering in the Korean music landscape as a pop-rock-oriented group. Serving their mainstream single "Sorry" in 2017, Billboard named the track one of the year's best Korean pop songs. In January of 2018, Billboard included the band in the top 5 Korean breakout artists to watch out for. "It's rare for rock-leaning bands to make a major K-pop impression upon debut," shared Billboard.
From then on, The Rose continued serving tracks that bring in a fresh sound to an ocean of K-Pop bangers. After some complications with their previous management and military service of some members, The Rose is set to 'heal, finally being able to bring new music to the table under a new label.
Signed into Far East Movement's Transparent Arts, The Rose is geared up for their big global comeback, announcing their first full-length studio album "HEAL". With a big new record right around the corner, the band also announced the Heal Together World Tour in support of their new craft. With a new management and a new chance to show the world what they've got, The Rose is serving healing energy across concert venues globally, serving a unique taste of Korean music amidst a sea of infectious K-Pop bops.
Teasing photos of the boys dressed flawlessly in tuxes, fans have been itching for more hints about this big new era.
"It's rare to find highly talented artists who also have strong work ethic and sharp business acumen," James Roh of Transparent Arts shared. "We look forward to fully supporting their creative vision with their upcoming album HEAL and continue to help expand their global fanbase."
Band members say that Transparent Arts "respects our vision" and that they're "excited to have their support as we grow further in our careers.".
Though not having been able to maximize their reach during the pre-pandemic days, they've got two EPs that took spots at the World Albums Chart and five songs on the World Digital Song Sales. With a new label in support of their creative vision with a desire to expand their global fanbase, The Rose is set to soar to greater heights as they 'heal together with their very loving fans.
So, get ready to meet Woosung, Dojoon, Hajoon, and Jaehyung live on stage at the HEAL TOGETHER World Tour by booking your tickets now!