Hollywood Palladium | Los Angeles, California
For those of you who like a little spice in your musical life, look no further than the incredible Thievery Corporation!! This eclectic downtempo trip-hop group are on their 217 tour, coming to the Hollywood Palladium on Friday 27th October 2017!! Book your tickets ahead of time to avoid disappointment – hit the "Buy Tickets," button to get yours now!!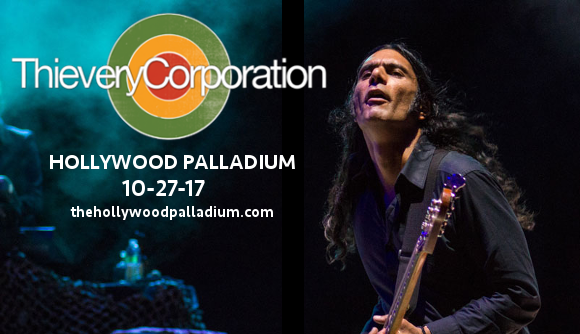 The brainchild of Rob Garza and Eric Hilton, together with singers and musicians Rob Myers, Natalia Clavier, Loulou Ghelichkhani, Ashish Vyas, Frank 'Booty Lock' Mitchell and Mr. Lif, Jeff Franca, Thievery Corporation is a Washington, D.C.-based group of recording artists and DJs. Their style is truly diverse, incorporating a wide range of genres from dub and reggae, to Indian classical and Middle Eastern, to rap/hip hop, to electronica! In particular, Rob Garza and Eric Hilton have often mentioned their inspiration from Brazilian culture, especially the 1960s Bossa Nova music movement, in interviews and CD sleeves.
First drawing attention with their two 12-inch released, "Shaolin Satellite" and "2001: a Spliff Odyssey" and with their 1996 debut LP, Sounds from the Thievery Hi-Fi, Thievery Corporation soon built a devoted fanbase around their unique sound, and went on to release a stream of successful albums.
The group are now on tour with their tenth album, the amazing "The Temple of I & I". Get ready to hear all the new songs live in the wildest, trippiest show you've ever seen – book your tickets to see Thievery Corporation today, while they last!!