Hollywood Palladium | Los Angeles, California
There can only be one WINNER and they're EVERYWHERE! This exciting tour de force of one of Korea's in-demand K-pop boy bands are crossing to this side of the Atlantic to delight fans with their winning live performance on Sunday 20th January 2019, at the Hollywood Palladium. Fan anticipation for their shows is doubly high as this comes as an extraordinary treat for them seeing them live and in the flesh. Their most devoted followers are in it to win it as they go and get tickets to the show. Don't wait for the last minute, chances are you'd be a sore loser and missing this show. Act quickly because tickets are selling at winning speeds. Ready, get set, go! Click the 'buy tickets' button now!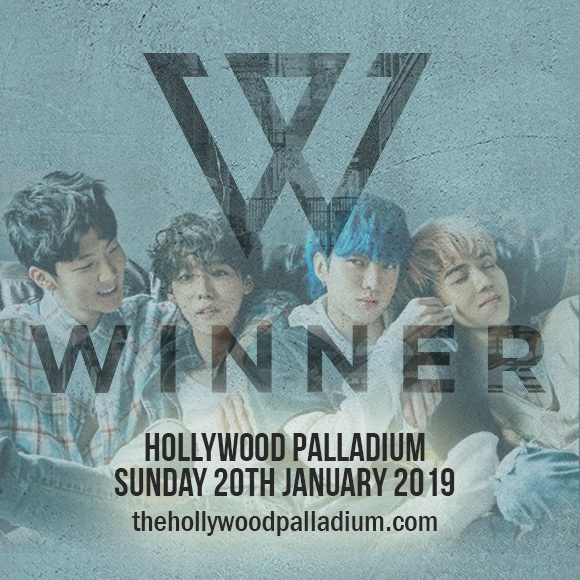 K-pop boy band Winner always have their winning moments. Flashback to 2013– they were declared winners from the reality survival program WIN: Who is Next. They bested other trainees from YG Entertainment for the chance to fill in the spot as the first YG boy group in eight years, since the debut of Big Bang. Their debut concert happened in 2014, and they bagged awards for Best New Artist in 2014 at the Mnet Asian Music Awards, the Melon Music Awards, and the Golden Disc Awards.
Winner started out as a quintet, then news that Nam Taehyun was leaving Winner in 2016, leaving them with the current line-up composed of Jinwoo, Seunghoon, Mino, and Seungyoon. They conquered Korea; then they won hearts all over the world. This adorable foursome dished out hit-after-hit-after-hit with booty-shaking top hits like"Color Ring", "Empty" "Baby Baby", "Sentimental", "Fool" and "Really Really". The sound of great songs travel fast, and soon enough, their popularity gained momentum all over Asia, parts of Europe, and here in North America.
The Winner Everywhere tour proves that they've transcended geographical borders and language barriers. The long wait is over. The bounds of space and distance become closer. Don't let this moment pass you by. Capture this winning moment with just a simple click. Book your tickets now!