Hollywood Palladium | Los Angeles, California
Folk rockers are in for a spectacular treat as the Swedish folk duo, First Aid Kit, is embarking on a North American tour in support of their new album, "Palomino". Sisters Johanna and Klara Söderberg are taking over the stage at Hollywood Palladium on Tuesday, 16th of May 2023. Infusing pop-oriented influences to their signature folk-rock edge, First Aid Kit just came to the rescue with a sonic banger. Get to witness your favorite hits and fresh new beats live on stage as you sing along to every lyric of "Angel" and "A Feeling That Never Came". As a promising act in the folk-rock scene, First Aid Kit is set to prove what they're capable of. Book your tickets now!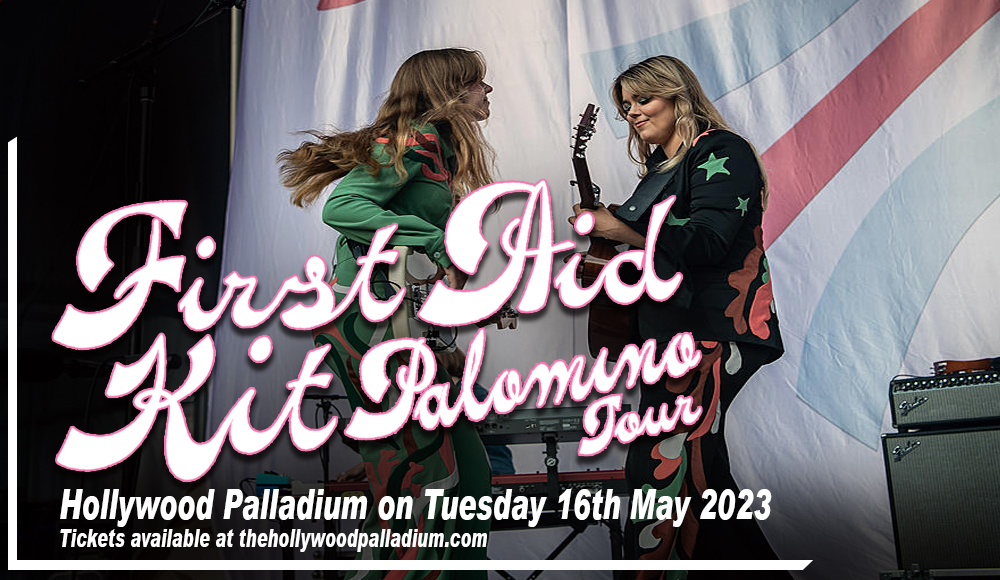 Fresh from releasing their highly-acclaimed sonic banger, "Palomino" featuring its upbeat and pop-infused folk-rock tracks, First Aid Kit came to surprise the world with mature growth in their sonic direction. Dropping "A Feeling That Never Came" ahead of the album's official release, the single made fans itch harder to get their hands on the full record itself as every new single from the Swedish duo came as a surprise as to how much they've evolved.
First Aid Kit sisters shared "Just like the title suggests, 'A Feeling That Never Came' is a song about emptiness. Those times in your life when you expect to feel joy or sorrow, but instead you just feel numb. This was the last song we recorded for the album – originally intended more as a b-side, it has quickly become one of our favourites. We feel like the softer, quieter vocals married so well with the Marc Bolan-inspired guitars and groove. It's a soft quiet banger."
"A Feeling Never Came" follows the duo's singles "Angel", "Out of My Head", and "Turning Onto You" which quickly became fan favorites as First Aid Kit gave a glimpse of their sonically-surprising new record "Palomino". With the new album out and about on the airwaves already, fans and critics have praised the Swedish duo for their growth as human beings and artists reflected in their new record.
"Here it is. Our fifth album Palomino. Straight from our hearts to yours." the sisters shared. "We are immensely proud of this record and we had such a joyous experience making it. To us, it symbolizes freedom and moving forward. Like the imagery of the Palomino riding off into the unknown, we hope these songs will give you inspiration and solace wherever they find you."
Following the album's release is their very special announcement of an extensive headlining North American tour. First Aid Kit shares that they are excited to bring their new songs to the live stage this coming summer and spring across the country.
Emerging into the scene as they uploaded self-produced tracks to MySpace in April of 2007, the two sisters have come a long way with over a decade of being immersed into the Americana style. Releasing their debut album "The Big Black and the Blue" in 2010, First Aid Kit grew a following and took it up a notch with the release of their second album, "The Lion's Roar", in January of 2012. The record was critically-acclaimed, hitting #1 in Sweden. Rolling Stone included its single "Emmylou" at the tenth spot as "Single of the Year" in 2012. They also won a Nordic Music Prize for Best Nordic 2012 Album.
With a fierce roar as the world started hearing First Aid Kit's roaring lyrical tales and bangers, they continued to roar, releasing their succeeding records "Stay Gold" and "Ruins" featuring fan-favorite singles "Master Pretender", "Stay Gold", "Fireworks", "It's a Shame", and "Ruins".
With their fifth studio record "Palomino" fresh off the shelves, First Aid Kit is set to deliver their biggest and most energetic era yet. Don't miss out on the duo's rockin' return to the live stage as Palomino comes to life as the crowd resounds to Johanna and Klara's harmonies and sonic waves at Hollywood Palladium on May 16th. Book your tickets now!